Open Orbiter
University of North Dakota preparing satellite to be launched into space
The University of North Dakota is scheduled to launch its first independent spacecraft this year. The University of North Dakota's Open Orbiter Small Satellite Development Initiative has prepared a satellite to be launched from Cape Canaveral Air Force Station in Florida aboard a United Launch Alliance Cygnus cargo ship, to be deployed from the International Space Station.
The satellite, Open Orbiter One, is part of a series of small satellites known as the CubeSat Program, it's called this because each spacecraft is a small cube made of 10×10 centimeter squares on an 11 1/2 centimeter tall aluminum frame. The satellite contains a small 3D printer, with the purpose of seeing if it will work in the vacuum of space, while the ISS already has a printer on board, this will be the first to operate exposed to space.
OpenOrbiter, founded in 2012, is led by Jeremy Straub, a student at UND who recently received his Ph.D in Scientific Computing, and Ronald Marsh, Assistant Professor and Chair of the Department of Computer Science. While originally exclusive to UND, it expanded to North Dakota State University when Straub became an Assistant Professor of Computer Science there. At the peak of the organization, several hundred students were part of the project.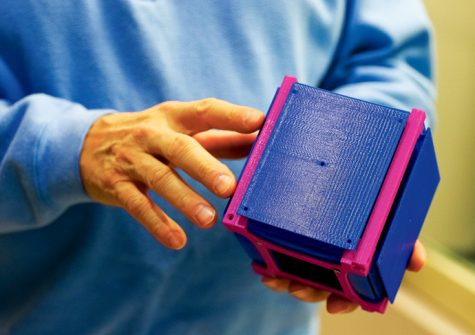 "All of the design and fabrication was done by students," Marsh said.
Straub was the leader figure of the group, while Marsh acted as a mediator and kept discussions on track.
"(Straub) was the one who conceived the whole idea," Marsh said, "and he had the ability to organize it."
As of writing, Open Orbiter One's launch date is scheduled for March 16, when it will be launched atop an Atlas V rocket as part of ISS resupply mission OA-7. Alongside vital supplies for station crew, the Cygnus cargo ship will also be carrying CubeSats from Morehead State University in Tennessee; California State University, Northridge; Cornell University; University of Maryland, College Park; as well as the Goddard Space Flight Center.
These satellites will be deployed from a module on the space station, and depending on their orbits, can last anywhere from six months to two years, although Marsh said he would be surprised if Open Orbiter One lasts more than nine months before burning up in Earth's atmosphere.
"
It's a really neat project. It was a really nice way of building inter-collegiate relationships."
— Ronald Marsh, Associate Professor and Chair of the Department of Computer Science
Open Orbiter One is the third object from North Dakota to go into space; the first was UND alumni Karen Nyberg, who flew on Space Shuttle Discovery in STS-124 and on ISS Expedition 36/37. After Nyberg came the UND student-built Agriculture Camera (AgCam) later renamed the ISS Agricultural Camera (ISSAC), which was delivered in 2009 and is still part of the station inside the U.S. Destiny laboratory module. Open Orbiter One will be the first free-floating spacecraft made in the state of North Dakota.
"It's a really neat project," Marsh said. "It was a really nice way of building inter-collegiate relationships."
Open Orbiter One was constructed of material made by 3D printers in Striebel Hall, and OpenOrbiter plans to use lessons learned from its construction to eventually build a fleet of CubeSats.
Connor Johnson is a staff writer for The Dakota Student. He can be reached at [email protected]