Fellowship and Faith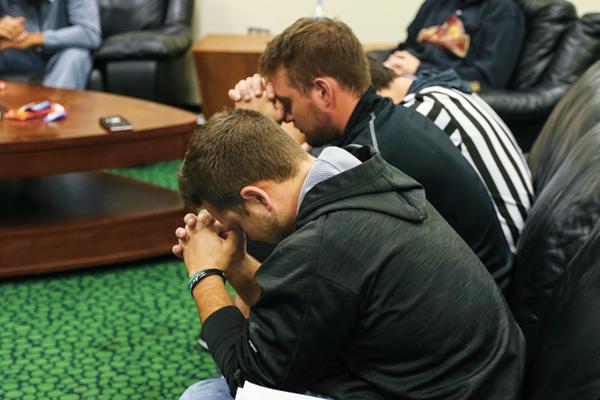 The life of a student athlete is a busy one, their schedules are filled with practices, workouts, community events and games all while making time for some social life and, most importantly, school. It is a delicate balance, but most student athletes find a way to make it work.
On top of all these things, some UND student athletes reserve an hour out of their Mondays to gather for their faith.
The Fellowship of Christian Athletes (FCA) is a program run by, husband and wife duo, Teri and Ev Nelson. They set up meetings, book clubs, barbeques and annual Christmas gathering for UND athletes that join FCA.
The program has been run for three years by Ev Nelson and Teri joined in the efforts this year. Ev, a former football coach at Central High School for 28 years, came to the UND community to run FCA but also works outside of the Monday night meetings. He works with the Men's Basketball team as well as the Football team that he travels with.
Each Monday they set up at the Betty Engelstad Sioux Center. They open the doors for athletes to come in and open up to one another about their sports and their faith. The meetings bring in an average of 35-40 student athletes a week from all different programs.
"Monday is a lot of fellowship, a lot of encouragement, with a message of some kind," Ev said. "Tonight we're talking about affirmation, encouragement and belief, moving into a team setting and what the value of that is for a teammate."
"
The cool thing about FCA is these kids find out even though they're different students and different athletes they all have some of the same things going on in their life"
— Ev Nelson
After the initial prayers, the athletes will divide into groups and discuss passages and their relevance to their sport.
"We want to give a message each week that might deal with a problem that you have as a man or a woman or might deal with some aspect of being an athlete or a student," Ev said.
Extending out further to the athletes, they also have a meeting at their home on Wednesday's where they are currently discussing a book, 'Radical' and this is for athletes who wish to go deeper into their discussion about faith.
"The cool thing about FCA is these kids find out even though they're different students and different athletes they all have some of the same things going on in their life," Ev said.  "Like being super busy, their life is based on performance and what's your identity, Are you a hockey player? Are you a baseball play? Or are you something beyond that? We like to talk about identity and greater purpose."
FCA also sees the returning faces of those who have graduated or from teams that have been cut from UND.
"It's exciting," Teri Nelson said.  "It is really exciting even just seeing students that aren't playing come back."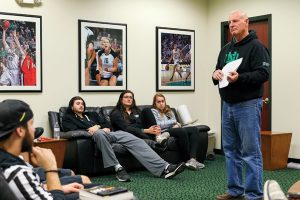 The athletes build strong relationships across all sports,. They don't see each other as belonging to different teams but being grouped together as people who were granted a God-given talent and have been given the opportunity to use that talent in Division I sports.
"There is a lot of support from one team to another, and maybe that was there before, but we've kind of emphasized that, and I think the kids have bought into it," Ev said.  "Now when they go to a game, they know the third basemen, or the point guard or who's playing hockey."
FCA athletes also complete service projects such as Operation Christmas Child boxes. These boxes are filled by the athletes and sent to the HOPE Church. From there, they end up in the hands of children who have never received a Christmas gift before.
"It was so much fun doing it, and for only six bucks, I put in gold yo-yo, a coloring book with crayons, a toothbrush and a football," UND student athlete Daniel Lockhert said.  "I'm going to do another one for a girl now."
These service projects are just some of the things that FCA does that brings the athletes closer together. The Nelson's also hold events like barbeque and their Christmas gathering to give the athletes a feeling of home.
"We're really building relationships with them," Teri said.  "They're like a family."
Teri and Ev continue to build a long lasting bond with these athletes through FCA. They discuss their open door policy to all athletes and welcome new faces with open arms and a warm smile.
"They've invested a lot in FCA," Ev said.  "And we're invested in them too."
As students graduate from UND and move into future endeavours, it is a hard goodbye for the Nelson's, but they hope that FCA had a positive impact as they move forward.
Allyson Bento is the sports editor for The Dakota Student. She can be reached at [email protected]