Former contestant on America's Next Top Model speaks to students at UND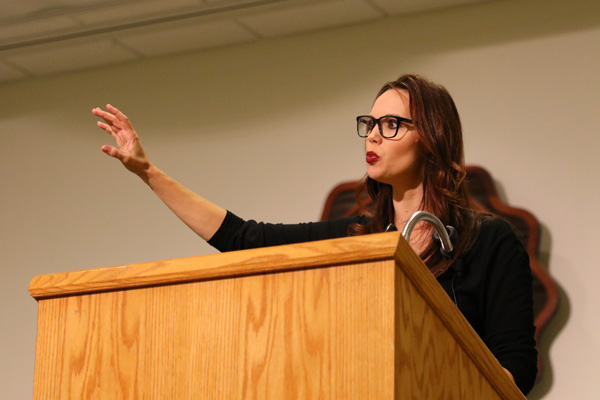 Tuesday night in the Memorial Union Ballroom, UND Catholic brought Leah Darrow to campus to speak about her decision to change her life and journey toward a Catholic faith. Darrow's message was titled, "Made for More: What I Wish Every College Student Knew."
Darrow gained national attention with her participation in the third cycle of America's Next Top Model back in 2004. Darrow's last photoshoot as model caused her to realize that she needed to make changes in her life, as she was making decisions she wasn't fully comfortable with.
Darrow explained how the modeling industry perpetuated an unattainable idea of beauty which affected her self-esteem and idea of purpose in her life. She spoke about the 'reality' aspect of reality TV, explaining, "There's nothing real about reality TV."
She explained that modeling didn't allow her to be authentic. She explained that the unattainable ideas of beauty seen in magazines affected her authenticity as person. She considered her time in the modeling industry as living a lie.
She continued by explaining how difficult it was getting criticized for her looks on national television. Darrow wanted to win on America's Next Top Model, but she explained how she felt gracious for the opportunity to get away from the drama.
"I was made for something more," Darrow said.
This marked Darrow's transition away from the modeling industry and toward a devoted Catholic faith.
After that photoshoot, Darrow left the world of modeling. She considered it a spiritual moment in her life where she realized that she had many gifts from Christ that she was ignoring. She walked away from that photoshoot realizing she wasn't going to be ashamed of herself anymore.
She decided that her life after modeling was going to be directed by her faith. She explained that the Catholic faith was the source of her work, and her message is centered around the Church and Jesus Christ.
Courtney Jerome, a missionary with UND Catholic, spoke with the Dakota Student about how the organization learned of Leah Darrow and her story.
"Leah Darrow is a nationally renowned speaker on what is true, good, and beautiful," Jerome said. "A lot of people have praised her for her witness and talks, so it was an amazing opportunity to have her put Grand Forks in her schedule and to take the time to bring her story to students up here."
Jerome spoke about what she felt was an important part of Darrow's message.
"I will remember, is that I am worthy, I am enough, because of who I am." Jerome explained that the world is filled with distractions and noise that tell us who we are or who we want to be. "It's hard to find yourself and your true identity in the world we live in."
Darrow emphasized the importance of finding yourself, which seemed to be a resonating thought with Jerome.
"It's important to search beyond those things and find what you're really looking for," Darrow said. "Then at the end of the day when it's just you, you're at peace because you know what you're about, who you are and that you are loved."
Darrow's insight about finding yourself was an important part of her message.
After Darrow was done speaking, she provided the audience the opportunity to ask her questions about her life. The audience eagerly took the opportunity to delve further into Darrow's life and her message to college students.
Before the event, a student from UND Catholic spoke about a mission trip many students will be traveling to in Jan. The gathering in San Antonio, called SEEK 2017, will be held Jan. 3-7. Darrow also spoke about the mission trip as she will be participating in the conference as a speaker.
Both the student and Darrow emphasized that over 13,000 college students gather for five days to learn from each other, listen to keynote speakers and enjoy faith-based entertainment. A substantial number of students in the crowd eagerly raised their hands when they were asked if they would be going to San Antonio for SEEK 2017.
UND Catholic provides an official mission statement on their website about their presence on campus. 
"The St. Thomas Aquinas Newman Center is dedicated to the Catholic spiritual, intellectual, apostolic and communal formation of the University of North Dakota students, faculty and staff for their own salvation and for the building up of the Kingdom of God on earth."
Liz Kacher is a staff writer for The Dakota Student. She can be reached at [email protected]