Camelot on campus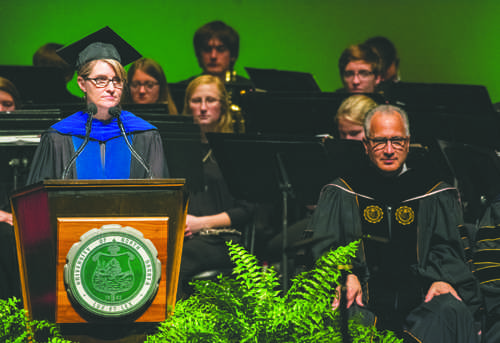 Inspired by JFK, President Mark Kennedy settles in at UND
For the twelfth time in 133 years, UND has inaugurated a new leader.
President Mark Kennedy was officially inaugurated as president of UND this past Monday at the Chester Fritz Auditorium.
The event was presided over by Rebecca Weaver-Hightower, professor of education and chairwoman of the inauguration committee.
"Indeed our past is something to be proud of, our present something to celebrate and our future under President Kennedy something to anticipate with eagerness," Weaver-Hightower said.
She was joined on stage by representatives from various members of the campus and North Dakota community, including the State Board of Higher Education and the state's Tribal Colleges. Brandon Beyer, UND student body president, spoke on behalf of students, welcoming President Kennedy to the university.
"These early past months have provided the circumstances that illustrate true leadership here on campus," Beyer said, motioning towards a ceremonial mace made of wood from UND's first building. "Now, as a student representative, I'm confident in entrusting President Kennedy with the mission that mace represents."
In his address, Kennedy highlighted the importance of international experience and understanding people with different cultural backgrounds. Throughout the speech he referenced John F. Kennedy, who visited the university 50 years ago.
"Advancing new frontiers has always been at the very heart of the UND experience. President John F. Kennedy knew this, I know it as well," Kennedy said.  "As a school devoted to lux ex let (latin for light and law) and shining light on new discoveries, being just state of the art is not enough. We are called to chart new ground for others to follow."
He also noted UND has long been pushing the envelope in a variety of academic disciplines and cultural norms, citing the names of alumni who have gone on to achieve in many different fields and who have advanced civil rights. UND also allowed women to enroll long before it was a widespread practice in America.
Kennedy Bio
Kennedy is married to First Lady Debbie Kennedy, and they have four adult children. The family has multiple ties to the Midwest and North Dakota. Mark's grandparents homesteaded in western North Dakota, his parents lived in eastern North Dakota for a time and Debbie is a graduate of NDSU.
Kennedy was selected after a multi-stage and eight month long presidential search process last year led by Hesham El-Rewini, chair of UND's College of Engineering and Mines, and Grant Shaft, a local attorney and UND alumnus.
Kennedy came to UND from his role as Director of the Graduate School of Political Management and Professor at George Washington University in Washington D.C. Prior to his time in higher education, he represented Minnesota's second and then sixth districts in the U.S. House of Representatives from 2001 to 2007. He was a trade representative for the federal government following his time in Congress.
Before his time in public service, he was an executive at several large companies, including Pillsbury and the firm that became Macy's. His education is also rooted in business; he holds a B.S. from St. John's University and an M.B.A from the University of Michigan.
Start of the year
Interim President Ed Schafer served as leader of the university in January of this year following President Robert Kelley's eight year span at the helm. Schafer guided the university through a contentious time as UND choose its new fighting Hawks logo and went through budget reductions.
Kennedy, whose tenure began in July, has had a relatively smooth start to his time at UND. In his speech, he stressed both the history of the school and its future potential.
"With the strong support of our alumni, political leaders and citizens of the state of North Dakota, we must knit a faculty staff and administration tightly together toward delivering an education that prepares our students for a lifetime of success, research and creative activities that propel our state and nation forward and service that honors our shared destiny," Kennedy said.
Sean Cleary is a copy editor for The Dakota Student. He can be reached at [email protected]