Arbor Park Decision!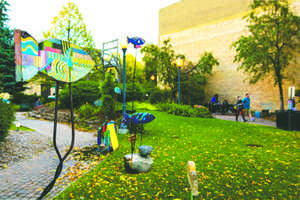 The Grand Forks City Council voted to further negotiations on developing Arbor Park last Monday, October 3. The council's vote was unanimous, and continued the struggle by some residents to save the park from redevelopment.
Arbor Park, located at 15 South 4th Street in downtown, was built in an empty lot following the devastating Red River of the North flood in 1997.
The park features several sculptures, with the centerpiece made of four metal trees, and some benches. A brick walkway loops the small park and, according to North Dakota's tourism website, was built from the remains of buildings destroyed in the flood.
One of the primary proposals for redevelopment comes from Dakota Commercial & Development, building a four story condominium building.
The building will cost $6.2 million, but some residents think the cost would be even higher.
"If it means destroying a work of art when other properties are available, to me that costs too much," Grand Forks resident Mary Weaver said Monday during the council meeting, sporting a yellow "Save Arbor Park" T-shirt.
Weaver was one of several people there to support the park; also wearing "Save Arbor Park" shirts were several members of Grand Forks Central High School's Politics Club. The students want to save the park as a spot of recreation; Weaver states it is more attractive to the surrounding neighborhood.
While council members also feel attached to Arbor Park, they believe that moving forwards is the best for the city in the long term, continuing Grand Forks' rebound after the 1997 flood.
"I like Arbor Park," said Dana Sande, council member representing Ward 6 and President of the City Council. "I wish the whole city was a park, but then nobody could live here."
One of the most vocal opponents of removing the park is Adam Kemp, a local artist who graduated from UND in 1989, with a Masters in Fine Arts. During the council hearing, Kemp mentioned that the building itself the least expensive part; other expenses come from the renovations that would need to be done around the site, giving the council pause.
"We're being talked to as an afterthought," Kemp said after the hearing. "And one of the things I pointed out years ago, if you want a more creative community, stop talking to us… after the job is done."
Despite this wording, Kemp and Weaver stress this isn't the end of the line; instead, further negotiation allows for the gathering of more information and hearing of both sides before a final decision is made. However students may feel, Kemp urges them to at least pay attention.
"In this particular regard, it's about being involved in the process," Kemp said. "If you want the town to look interesting in 20 or 30 years, and to accommodate what students needs, this is how you get in."
Connor Johnson is a staff write for The Dakota Student. He can be reached at [email protected]