Fresh feet lead into new season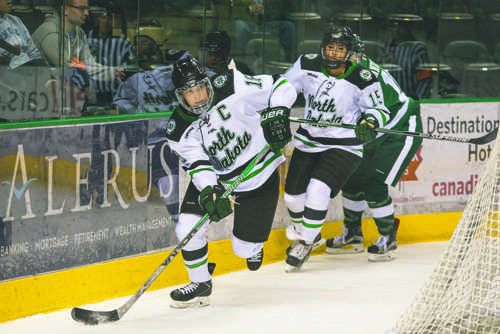 Women's hockey adds 10 new players to their roster, looking for success this season
Brian Idalski leads the Fighting Hawks into the 2016-2017 season with high hopes. After going 18-12-5 overall last season, and after scoring 12 goals in two games at the Ralph in the WCHA quarterfinals against St. Cloud State, UND met its kryptonite. That kryptonite was the Golden Gophers of Minnesota.
The loss to the Gophers in the Final Five, with a score of 2-0, ended the season in disappointment for UND, who did not qualify for the NCAA tournament. This season is a big year for the Fighting Hawks, as they look to compete with Wisconsin and Minnesota in the WCHA.
The WCHA, which has had every National Championship since 2001 except for  in 2014, is without a doubt the best conference in women's hockey. Those 13 championships have come from three different schools, Minnesota-Duluth, Minnesota and Wisconsin.
This year, UND will look to be the fourth school in the WCHA since 2001 to claim the National Title .
Last season, UND had some trouble putting the puck in the back of the net, having to rely on the woman between the pipes to win a lot of games.
UND will look to change that, and they return some firepower to help change that gameplan.
Halli Krzyzaniak, Amy Menke and Gracen Hirschy, all return for Coach Idalski and the Fighting Hawks. Menke led the team in scoring last season, with 40 points (19 G, 21 A), while Krzyzaniak had 17 points and Hirschy had 9 points last season.
After losing Shelby Amsley-Benzie due to graduation, the Fighting Hawks might not be able to rely on their goaltender as much last year.  She was very good last season, and it seemed like when UND struggled scoring goals, Amsley-Benzie kept UND in a lot of games. It's going to be big for the Fighting Hawks to be consistent with scoring the puck this season.
Whoever replaces Amsley-Benzie will obviously have big shoes to fill, but Idalski hopes that Lexie Shaw can fill those shoes.
Last season  Shaw started four games, and allowed nine goals in 242 minutes. Shaw had a save percentage of about .873, but maybe the most important stat Shaw has is her win-loss record which was 2-1-1.
UND has also seen an influx of freshman this season. There will be eight freshman this season for the Hawks to go along with the two red-shirt freshman who will compete for ice time.
Alyssa MacMillan is the third MacMillan sibling to play hockey for UND. The freshman has two older brothers, Mark and Mitch McMillan, who have suited up for the Hawks in years past. Most recently, Mark was an assistant captain for the men's team in 2014-2015.
Abbey Stanley was a red-shirt last year. This year, the defenseman looks to solidify her position in the defensive rotation for the Hawks. Stanley has participated in for national championships for USA.
Red-shirt Freshman Kristen Campbell will be competing against senior Lexie Shaw for the starting goalie position. The Brandon, Manitoba native played for the Westman Wildcats before UND where she was an all-star in 2013.
Emma Nuutinen comes to UND this year from Finland. Nuutinen brings Olympic experience as she played for the Finnish Women's National team at the 2014 Olympic Winter Games in Sochi, Russia. She joins Finnish sophomores  Anna Kilponen and Vilma Tanskanen as members of the Hawks with Olympic team expirence.
The most telling statistic from last season for UND is special teams' statistics. UND has fourteen power play goals and three short-handed goals on the season. UND was 17 percent last season on the power play, and held their opponents to only 12 percent on the power play. Those stats will win a lot of games, and UND hopes the special teams are just as good this season.
The Fighting Hawks begin their season against the Mercyhurst Lakers in Erie, Penn. this weekend. They will be a tough test according to Idalski.
"They're a good team," Idalski said. "They're well coached. It won't be that much different from when we opened the season against BU a few years ago, but this was the only time we could fit it in."
Although Mercyhurst will be difficult to defeat, UND has improved from last year and should be able to hang with them.
"We're faster. We're grittier. We're tougher. Our compete level and the intensity of practice is much higher," Idalski said. "I've been pleased with that. At the same point, we're still implementing some systems and special teams. We have a ways to go there."
With the Gophers and Badgers dominating the WCHA in prior year, UND will need to make a statement and find a way to beat both teams if they wish to see a championship this season.
Hunter Plante is a staff writer for The Dakota Student. He can be reached at [email protected]