Grand Forks hosts hip-hop festival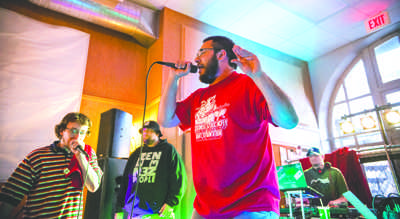 The Zen People perform their set at the Rhyme and Reverse festival on Friday night. Photo by Nick Nelson/The Dakota Student.
Cold Sweat, Real Truth and Jantzonia make up the hip-hop trio known as Zen People.
On Friday night, they performed in front of a small crowd at The Guild in downtown Grand Forks as a part of the Rhyme and Reverse hip-hop festival.
Thomas X, a rapper from the Red Lake Indian Reservation also performed that night with the help of Brandon Strong.
The event went from Friday to Sunday with a lineup that also included 33 ⅓ Revolutionaries, Left Field, Mic Jordan, Baby Shel, Being Ril, Jaui, Bok I.D., Ritchie Bamba, Dakotah Faye and Nova Cain, who performed on Saturday and Sunday. DJ Nocturnal and DJ Bok accompanied the performers.
Staff Report