Hawks look for hope in 9-game homestand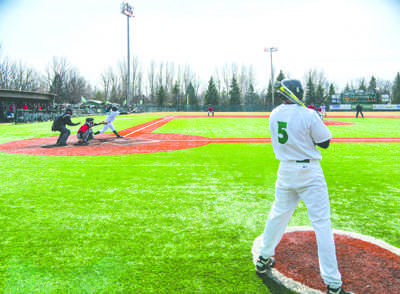 Luis Calvo (Top, left), Zach Muckenhirn (right) and the rest of the UND baseball team hopes to get back to winning ways during its nine-game homestand. Photo by Nick Nelson/The Dakota Student.
In light of the recent budget cuts, UND baseball is determined to make the most of its last season for the foreseeable future.
A week and a half after UND announced that there would be no more baseball at UND next season and beyond, it turned into a do or die season.
UND can gain momentum to make a run in the WAC playoffs this weekend as they play host to Grand Canyon at Kraft Field.
Grand Canyon, who comes in with a WAC record of 5-7, is coming off a win over conference leading Seattle University this past weekend.
Grand Canyon comes into Grand Forks with a high-powered offense, much like Seattle did two weeks ago. They are led by infielder Paul Panaccione, who comes into this weekend batting .355, with three home runs and 22 RBIs. The team is stacked with hitters as freshman Austin Bull and sophomore Thomas Lerouge both bat over the .300 mark for the Antelopes, who are 16-18 overall on the year.
It will most likely be a pitcher's duel in today's game. Grand Canyon has a stud pitcher of their own, much like UND does with Zach Muckenhirn.
Left-handed pitcher Jake Rapavich has appeared in nine games, starting in all nine. Rapavich has an ERA of 2.53, with a win-loss record of 3-2. He has only given up 17 runs, with 15 of them earned runs. He has struck out 31 in 53.1 innings. He will most likely be the Friday starter who will be given the task of trying to slow down the Fighting Hawks offense.
The Fighting Hawks come into today's game without much momentum. UND has lost its past four games, including a loss to rival NDSU this past Wednesday in Fargo. The Fighting Hawks hope that being back home will start some late season momentum for a team that started out 2-0 but has struggled since that point.
Playing baseball in North Dakota is hard for any athlete because they are on the road for the majority of the season. But now, UND will be at home for nine straight games. UND hopes that being back in Grand Forks brings magic to a team that needs it.
UND fans will get to see junior lefty Zach Muckenhirn this afternoon and he hopes to pitch lights out and get his team back in the win column. Muckenhirn has a win-loss record of 2-5, but his ERA is excellent at 2.70.
Last weekend, UND was down in Texas, taking on WAC foe UT Rio Grande Valley. The Fighting Hawks lost a tight game on Friday night, 2-1. UND would try to come back Saturday and bounce back off a tough loss on Friday. UTRGV took that one as well 12-2. In the series finale, the Vaqueros would take the Sunday matinee as well 8-4.
UND will follow the game against Grand Canyon on Friday with two more on Saturday and Sunday. Those games are at 1 p.m. and noon, respectively. The Hawks then follow this series with a game against Division II foe Minnesota-Crookston, who will take the short trip drive up Highway 2 to Kraft Field. That game is 4 p.m. Tuesday.
Hunter Plante is a sports writer for The Dakota Student. He can be reached at [email protected]