Lewis still shines in the midst of turmoil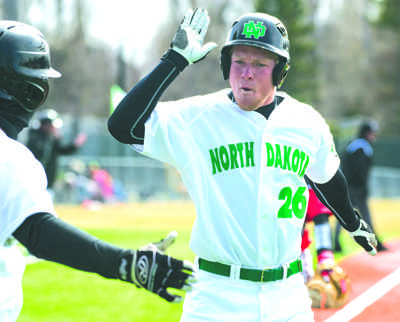 UND redshirt freshman Miles Lewis has been instrumental in the baseball team's wins as he leads the team in batting average. Photos by Nick Nelson/The Dakota Student. 
Even though there will not be a UND baseball team next season, that has not stopped red shirt freshman Miles Lewis from being one of the Fighting Hawks best players.
Usually a redshirt freshman would want your first game to be against a lesser opponent so you can get your feet wet and ease into the college game.
When Lewis set foot on the plane, he didn't know what to expect from his first series. That series, by the way, was against the USC Trojans, who started the season ranked No. 12 in the nation.
One would also expect a redshirt freshman to struggle in his first ever college baseball series.
Lewis did the exact opposite.
Lewis was immediately put into the number two spot in the lineup and did not let UND coach Jeff Dodson down. Lewis had four hits and an RBI single in that series.
"It was definitely an eye-opening experience," Lewis said. "A lot of nerves going in, and I was just glad to get that first win out of the way with my team."
That was just the start of things to come for Lewis against the "big dogs" of college baseball.
The Fighting Hawks would follow the USC series with games against Alabama, Kansas, St. Louis, Wichita State and Creighton.
In every single game, Lewis had success. In the Alabama series, Lewis finished with two hits, followed by a three hit performance and one stolen base game against the Kansas Jayhawks.
The freshman also had a career game against St. Louis where he had four hits, four RBI's, one double and one triple.
In one game against Wichita State, he had one hit and then in a series against Creighton, he had three hits.
It could be said that Lewis has adjusted to the whole college baseball thing pretty well.
That hefty schedule has undoubtedly helped the young catcher and outfielder prepare for the WAC schedule.
"The first weekend, seeing pitches that were 93 or 94 mph, and then coming into WAC play where the pitches are upper 80s or low 90s, it looks really slow," Lewis said. "The ball looks like a beach ball right now."
Lewis has been crushing WAC pitching so far. In nine WAC games, Lewis has 14 hits, with seven RBI's and one home run.
Throughout the entire year, Lewis has stayed consistent. The Hudson, Wisc., product has started in all 24 games, while batting .358 with one homerun, and 12 RBI's.
Lewis also mentioned that speed is a big part of his game, and that is evident with his five stolen bases on the year.
"Speed is one of my best assets of my game," Lewis said. "I try to hit the ball on the ground, and try to beat ground balls out."
Miles spent his year working hard on his swing and other aspects of his game in the Hyslop Sports Center and it is paying dividends.
Last year, Lewis had labrum surgeries on both shoulders and he is the first to say that he wouldn't have been ready to play last season.
"I don't think I would've been ready to play last season, with the surgeries I had," Lewis said. "But I continued to work hard and it's paying off this season."
Miles is 100 percent this year coming off of those two surgeries, and WAC coaches and pitchers might have a long year with the young Lewis wearing that UND jersey.
Up next for Lewis and the rest of the UND baseball team is an away series against University of Texas Rio Grande Valley.
After the three road games, the Fighting Hawks will start a nine-game homestand at Kraft Field.
Hunter Plante is a sports writer for The Dakota Student. He can be reached at [email protected]