Let's invest in the students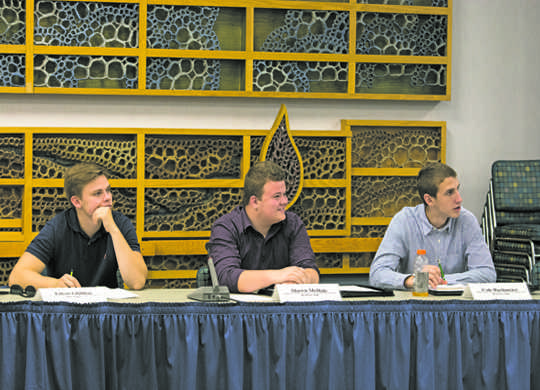 Student senators 2014-2015 school year. Photo by Nick Nelson/ The Dakota Student
Over the past year, there has been a considerable amount of concern in regards to where student money goes at UND, and who is really benefiting from the money.
Rumor has it the first group to draw significant fire was the university system administration itself, facing allegations of roughly $3 million not being spent and seeming to vanish into thin air.
Today, we are going to discuss a different organization on campus that can be impacted directly. I am talking about UND Student Government.
Currently, Student Government has a fiscal budget of $567,044 and uses this budget to provide many worthwhile and meaningful programs on campus.
What Student Government does not tell you, however, is that it has approximately $273,000 sitting in a reserve account. Furthermore, this year it is projected to add almost $71,000 into this account, as opposed to spending it on student programs and functions.
As a student, I am deeply concerned that Student Government is allowed to hold this much money in reserve, when they could instead be spending it on meaningful events for our student body.
For example, with its budget surplus, Student Government could buy an average house every other year without having to take out a mortgage.
I understand the need for an annual cushion, but I don't understand the need to have half your annual budget sitting in a reserve investment account.
I have spoken with many student senators about this personally, and every single time I ask them what are we saving the money for I am either given a blanket "things" answer, or an explanation that a cushion is necessary for preserving the future.
In my opinion, I would like to contest the notion that we need such a massive cushion considering the many issues facing our campus and would like not to be placated with empty promises of plans that have neither been drafted nor be completed in my tenure as a student.
For example, I would like to argue that we could, instead of saving for the apocalypse, invest in our students- — whether it be in their pursuits of academia through scholarships, upgrading student computers into the modern century or putting greater value in student entertainment. Perhaps we could have a permanent annual concert that doesn't cost $70 a person or maybe even an outdoor hockey rink.
Student Senate is elected by you, and therefore answer only to you. If you feel that it could allocate the extra surplus elsewhere, I would encourage you to email your student senators.
Dave Owen is an opinion writer for The Dakota Student. He can be reached at [email protected]