Stanley Cup makes stop in Grand Forks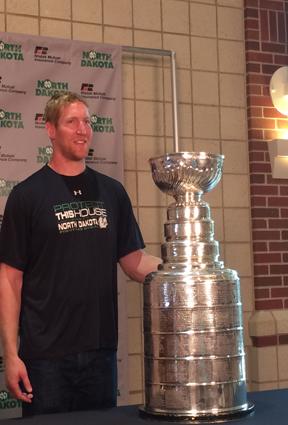 Former UND hockey player Matt Greene stands with the Stanley Cup at Ralph Engelstad Arena on Aug.12. Photo by Elizabeth Erickson/The Dakota Student.
It wasn't the first time Matt Greene hoisted the Stanley Cup high above his head.
After five games that ended with a double-overtime matchup on a late Friday evening in June, the L.A. Kings triumphed over the New York Rangers in the Stanley Cup final. Greene had done it again.
Just two years earlier, Greene's 2012 season ended with much the same celebration.
Each member of the winning team gets one day with the Cup. Last time, Greene took the prized trophy to his hometown of Grand Ledge, Mich., where 7,780 residents awaited his visit as a first-time Stanley Cup winner.
This time, Greene took the Stanley Cup to the places he spent much of his time in college at UND. He played three seasons there from 2002 to 2005, and served as captain during his final year.
Not only did hundreds of eager fans wait outside the Ralph Engelstad Arena for hours to snap a picture of the trophy during the short time of its public viewing, it also made its rounds to Darcy's, Judy's and Red Pepper.
"It's just a lot of fun," Greene said. "It always makes for a good day. It never really gets old, never wears off. It's a pretty special feeling to be able to share it with friends and family too."
The hours of driving and the experiences he had are what separate Grand Ledge and Grand Forks, but Greene finds them equally important — though it's the people that make them significant.
"Grand Ledge and Grand Forks are really similar," Greene said. "A lot of my friends from home are here right now, and they get along with all my friends from college. It's very similar in terms of the people. That's what makes this place special, is the people and the way of life."
Elizabeth Erickson is the sports editor of The Dakota Student. She can be reached at [email protected].