Student writes book about second chances
Life-threatening car crash changes life, inspires writing process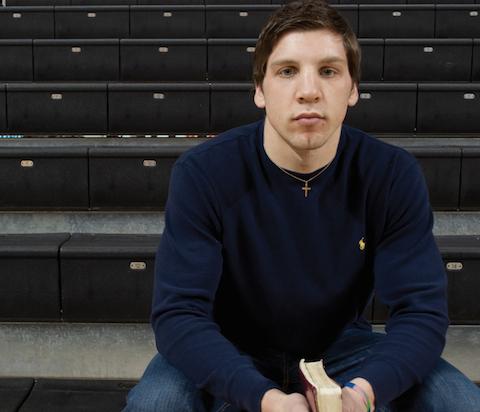 Senior Benjamin Hylden at the Betty Engelstad Sioux Center. Photo by Shae Bonifacio/The Dakota Student.
Nearly seven years after facing a life-threatening accident, UND senior Benjamin Hylden is about to release his story in a book called "Finding Faith in the Fields."
Hylden has been working on the book since the beginning of his junior year and said he finished his revisions in early February after receiving feedback from his publisher. The book is scheduled to come out April 6.
UND student Grant Birmingham, who has known Hylden since they were young, said he rarely saw Hylden because of the hard work he put in to writing.
"I lived with the guy, and I saw him every other day — like I would never see him," roommate Ian Myrdal said. "The only time I would see him was when he was going to class or walking around campus. You never see him at home."
Hylden has been working with communications professor Timothy Pasch since the fall semester after a class discussion broke open about e-books.
"I'm sure I had heard of e-books or something, but I didn't know I could put my book online for people to see, and that just gives me another output," Hylden said. "He opened up my eyes for so many more opportunities and helped me get my book out there."
The incident
Midway through his sophomore year of high school, Hylden's main focus was on basketball until he was in a car crash that changed everything.
"I was driving from my house, which is up in the country, to the nearest school in Park River, N.D., and I just lost control on the road," he said.
After being found by his parents in a field, Hylden was taken to the hospital where the doctors told him he only had a 5 percent chance of living. They also told him if he did survive, they would have to amputate his leg, making it impossible for him to return to basketball.
Despite what the doctors believed, Hylden survived, grew stronger than expected and was lucky enough to keep his legs. After a short time in the hospital, Hylden said he felt he was meant to be back on the court. He decided he would be ready for the next season.
Hylden worked to get back on the court, but further injuries prevented him from continuing. In his senior year Hylden decided he could no longer play after getting hit in the head during a scrimmage.
"At that point, I realized that sports were not everything in life," he said. "I made the right decision. I gave up basketball, but I gave it up for a bigger purpose, and now I understand why I was propelled to give up basketball."
Since then, Hylden has gone back and helped coach at his high school and has helped younger players grow.
"I know what happened, and I know why I am alive," he said. "I would not be here right now, if He would not had everything work perfectly in line like He had."
Until last year, Hylden's goal was to become a teacher. However, he has since had a change of heart and hopes to graduate with a masters in counseling. His dream is to become a public speaker and a college basketball coach.
Lifting others
Friends of Hylden know how much effort he put in to write his book, and they know how much it meant to him. However, they also will tell you he has changed the way they view people and hard situations.
Birmingham, who has become good friends with Hylden over the past few years, says the story totally changed where he was headed.
"I was about to fail out of school because my grades were really bad, and he helped me," Birmingham said. "He sat down with me and went over all my grades and helped me get everything organized."
Birmingham said Hylden told him he just needed to pray and encouraged him to gather for worship every week. Hylden said if he is able to do one thing through his book, he says he would like to be able to show that nothing is impossible.
"Nothing is impossible. You can do anything in life," he said. "Don't let anyone tell you that you're not talented enough or smart enough or that you are not have the capabilities to do that."
Matt McKay is a staff writer for The Dakota Student. He can be reached at [email protected].