New Season, Same Results
UND hockey opens their 2020 campaign with a win over Miami
As COVID-19 tightens its grip around the upper Midwest, sending many of us inside and away from loved ones, a beacon of hope has been lit around 500 miles south of Grand Forks. The NCHC pod, consisting of 10 games from Dec. 1 to Dec. 28, has dropped the puck on the season in Omaha and is poised to give us just the distraction we need. Very few things can spark up the community like the start of the University of North Dakota hockey season. After their opening day win over Miami University, UND has shown they have the talent to capture our attention.
After many months off the University of North Dakota men's hockey team returned to the ice Wednesday in a strange environment. Instead of a packed Baxter Arena, only essential personal could be found in the new home of the University of Nebraska Omaha Mavericks, other than a handful of cardboard cutouts. An almost haunting feeling surrounded the ice before puck drop, but as soon as the clock started rolling the emptiness subsided. It felt like we had stepped out of the pandemic and back to 270 days ago when North Dakota Hockey was number one in the country and seemingly on its way to another title.
Another talking point on the night was a sticker on the helmet of each UND player. This sticker honoring the late North Dakota great Reg Morelli who passed away at the age of 84 last month. Reginald "Reggie" Morelli will forever be remembered at UND for his overtime time goal in the 1959 NCAA national title game against Michigan State, winning North Dakota their first national title and setting the standard for the excellence that would follow in years after. A great display by the program for honoring their past hero.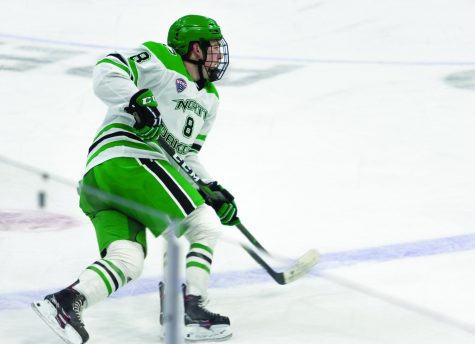 Number one ranked UND will be sparking up the title talk yet again after this 2-0 win over Miami University in a game that looked closer than it was. UND dominated through most of the night, outshooting their opponents 39-19. A stellar performance from Sophomore goalie Ben Kraws kept the RedHawks in the game late but he couldn't remain perfect against a hard-pressing North Dakota attack. A rustiness in the finishing department could be a reason this game did not open up more than it did.
After outshooting Miami 18-4 in the first period, they could not find the back of the net until late in the second, capitalizing on the powerplay, a Matt Kiested one-timer from the point was able to beat Kraws on the set up from Kawaguchi and Pinto.
"We were saying on the bench, 'Stick with it. We're going to get one to go here. Don't change anything we're doing. Keep piling on the shots,'" Kiersted said. "Right after my goal, Shane came up to me and said, 'There we go. We worked on that all summer.' We spent a lot of time working on that play. It's good to see it pay off."
UND's best player on the night was forward Riese Gaber. The Gilbert Plains, Manitoba native lead the USHL last year with 34 goals in 47 games and seemed to carry that hot hand into this season. After a great first two periods, Gaber collected a centering pass from Pinto and twisted home a wrist shot into the top corner. On a team filled with returning players and young drafted talent, it was an undrafted freshman who took center stage tonight.
"Riese came in here as a heralded player," said Head Coach Brad Berry. "His body of work in the USHL as a scorer, as a guy who can make plays, was evident tonight."
In net for North Dakota was Adam Scheel who returned to his spot after losing it late last season to Peter Thome. Scheel collected another college shutout as he stood tall making 19 saves on the night. His biggest of which came against Miami speedster Mattew Barolini on the breakaway. His shot was sent wide by a Scheel pad and nothing would get by the rest of the night.
UND will play again Friday at 7:35 against number four ranked Denver who is coming off a hard loss to number three Minnesota Duluth. You can watch North Dakota take on Denver on MidcoSN or listen on 96.1. We are all excited and relieved to see UND hockey back on the ice. It may not be in front of thousands at the Ralph but it gives us hope that those days will return soon.
James DeArman is a Dakota Student Sports Writer. He can be reached at [email protected]