Veterans Day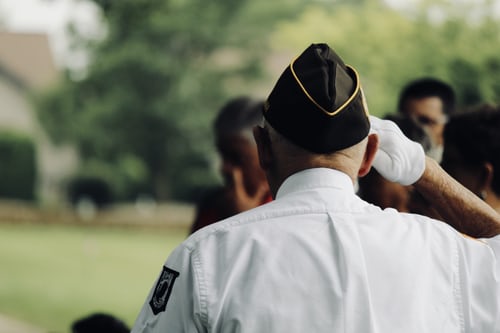 November 11, 2020, is Veterans Day, but also marks the 75th anniversary of WWII ending, the 70th anniversary of the Korean War starting, the end of the Panama Invasion, and the start of Desert Shield.   Many individuals see Veterans Day as a day off from school or work, but it has a much deeper meaning than that.  Veterans Day is a day of remembrance and appreciation of American veterans who have served our country.    
What is a veteran? SSG Steven Mayhair explained what makes someone a veteran and its importance.  
"Title 38 of the Code of Federal Regulations defines a veteran as 'a person who served in the active military, naval, or air service and who was discharged or released under conditions other than dishonorable'" SSG Mayhair said. "This definition explains that any individual that completed a service for any branch of armed forces classifies as a veteran as long as they were not dishonorably discharged." 
Some individuals who have served or are currently serving explained what Veterans Day means to them and how they celebrate the holiday.   
"Veterans Day means to honor all our brothers and sisters, past and present that have worn the military uniform and served our country under oath to protect us from enemies foreign and domestic." SSG Mayhair said.  "It affects me because I've served in the Army on active duty, in the Reserves and now in the ND National Guard and I feel very blessed that I am able to contribute to fighting for the freedoms most of us take for granted.  I feel an obligation to serve and protect remembering those who have been wounded or given the ultimate sacrifice to keep us free.  I like to remember my dad who was in the Army and went to Vietnam, my brother who was in the Air Force and served multiple overseas tours and my brother-in-law who served in the ND National Guard and fought in Iraq."  
Sgt. (Ret.) Curtis Klein explained what Veterans Day means to him and how it personally affects him as a veteran.   
"Veterans Day means a great deal to me. It's one day that I have earned my way into the "brotherhood" of arms by serving this great country in a war zone." Sgt. (Ret.) Klein said. "When it comes down to it, it's all about the "brotherhood" because you are fighting for the people beside you and not about what the war represents. It personally affects me as I reflect on my years of service and the men we lost while in combat and more since we've been home."   
A Vietnam veteran explained that not just those who have served should celebrate, but everyone in our country.   
"It's a special day that should be celebrated by everyone, not just veterans.  This day personally affects me because I served in Vietnam."  
When asked how they celebrate, they each explained they all have their own way of remembering those who have served our country.  
"I like to take a moment in the day to thank God for all who have served and to go by the Fallen Soldier Memorial at the Civic Center on my run." SSG Mayhair said.   
Sgt. (Ret.) Klein explained how he changes the way he celebrates, but always dedicates time to reflect and remember those who have served.   
"Every year I celebrate it differently." Sgt. (Ret.) Klein said. "If I can go out and get a meal or do something like that, I will. Some years I will just stay home and avoid the crowds and reflect in peace. Look at some pictures that I have from my Iraq deployment. This year I will just spend it with my daughter and see what we can find to enjoy together." 
A Vietnam veteran explained that he flies the American flag at his home and visits with other veterans to pay his respects to the holiday. He explained that Veterans Day isn't celebrated the way it should be because people are not educated on the meaning behind the holiday. He explained if more people knew the true meaning, more would celebrate.  
Once known as Armistice Day, Veterans Day has a long history and has had some changes along the way. Sgt. (Ret.) Klein explained how Veterans Days has changed for him throughout his life.  
"Veterans Day has changed a lot throughout my life." Sgt. (Ret.) Klein said. "I was too young to realize the magnitude and significance of what people go through and how they are affected before I joined the military. Like so many before me, I was in combat zone when I was 20 years old. I had so many wonderful memories and I have met so many great people throughout my military career and I wouldn't change any of it. Veterans Day for me is about the places I've gone, people I've met, and people I've been able to serve." 
Thank you to all those who have served as well as those who are currently serving.  This Veterans Day thank a veteran and all the sacrifices they have made as well as remembering those who are no longer with us.   
For more information on Veterans Day, go to https://militarybenefits.info/veterans-day/ or https://www.history.com/topics/holidays/history-of-veterans-day#section_1. 
Brianna Mayhair is the Dakota Student News Editor. She can be reached at [email protected]