Coming Out Day Celebration!
On October 7, from 1-3p.m., the Student Diversity and Inclusion Center is holding a celebration for National Coming Out Day, which is Sunday, October 11. Coming out is a huge part of the LGBTQ+ community, and when asked why coming out is so important, Mr. Jeff Gibson, Assistant Director of Student Diversity and Inclusion said:  
"To me, Coming Out Day is so important because it's a day dedicated for being proud of who you. It shows that there is a community, that there are people who hold LGBTQIA identities and that they matter. Coming Out is all about self-acceptance and living an authentic life; being true to you." On October 7, Pride Packs will be handed out at the American Indian Center to celebrate National Coming Out Day.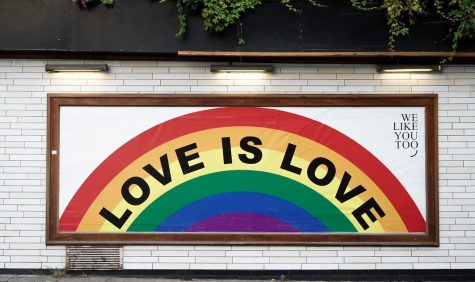 National Coming Out Day is a day to bring awareness to LGBTQIA+ identities and celebrate coming out and living authentically in oneself. When asked why we should celebrate coming out, Mr. Gibson said: "Celebrating Coming Out Day helps create a community of acceptance an inclusion. No one should ever have to hide their identity because of fear how people will treat them, fear for safety, or fear for existing. When we have a national celebration, it shows that there are people that share similar identities and experiences across the world; it helps people who may not be out or don't have a place to express themselves, to have a sense of belonging and know that they are not alone." 
Another critical aspect of National Coming Out Day is to provide solace for those who are unable or not ready to come out, and comfort in knowing there is a community out there. When asked what he would say to those who haven't come out yet, Mr. Gibson said: "Coming Out is your journey and there is no rush; you don't have to prove anything to anyone, your happiness and well-being is what is important. And when you decide to come, know that you have a community of support that wants to celebrate you! We have LGBTQ faculty, staff, and students on our campus that hare here for you and of course we our Allies too! If you are looking to come out or just need someone to talk to, I'm a great person to get connected with and can have those conversations or get you connected to another student if that is more comfortable." The University has many resources for LGBTQ+ students to use whenever they please. 
The Student Diversity and Inclusion Center will be hosting more events like this as well. On the topic of these events, Mr. Gibson said:  
"We [The Pride Center] are continuing to offer spaces (virtual) for LGBTQ students such as Qmmunity which is a weekly discussion group and our LGBTQIA Mentorship program and we even have a UND LGBTQ Discord. Students can also tune into the Student Diversity & Inclusion Instagram to check out our IGTV series Coffee & Queers which covers topics relating to LGBTQIA identities. Our student groups like the Queer & Trans Alliance along with National Gay Pilots Association also are hosting great events and opportunities to get involved. Some events we have planned for the future include Transgender Day of Remembrance and Intersections: Queer & Trans Experiences." As levels of COVID safety change, these events and more are subject to change or be added, so keep an eye on www.und.edu/pridecenter or the UND calendar for more information. 
Kaitlyn Willett is a Dakota Student News Writer. She can be reached at [email protected]