The path of the Maah Daah Hey
Olga Kopp, Arts and Community Writer
September 21, 2020
Since we still practice social distancing, it is a good time to travel somewhere with a small number of people.  Even when we travel, it is necessary to wear a mask in public places and sanitize your hands as often as possible. Today, however, I will not write about COVID, but instead, I will share my adventure with you. 
It was a peaceful and exciting journey. This month my husband and I went on a mountain biking trip. We enjoyed our weekend by being as productive as possible. Although the road trip was quite long, we were focused on our destination. We decided to mountain bike in the longest trail in North Dakota, which is called the Maah Daah Hey Trail. 
The Maah Daah Hey Trail is a nearly 150-mile non-motorized single-track which winds through the Little Missouri National Grasslands in North Dakota's Badlands. This trail forms the longest continuous single-track mountain biking trail in the United States. 
For a little back story of the trail, the Maah Daah Hey trail has been designated a National Recreation Trail on December 14, 2016, by the Northern Regional Forester, Leanne Marten. Maah Daah Hey is a phrase from the Mandan Native Americans' meaning, "an area that has been or will be around for a long time." The trail connects both the North Unit and South Unit of Theodore Roosevelt National Park. 
When biking on the Maah Daah Hey Trail, I felt connected with nature. There were a variety of birds, such as wild turkeys, doves and eagles. We were surrounded by dragonflies and grasshoppers. We also saw prairies dogs and garden snakes quickly crossing the trail. It was enjoyable being a part of that magical trail. 
The landscape of the trail was changing from the dry and rocky desert into the nicely shaded prairie lands with many colorful flowers, bushes, trees and ponds.  We did not feel too hot because of the nice breezy wind which followed us along the way. 
The area was very secluded and peaceful. We rarely met hikers who enjoyed walking on the trail, but for most of our adventure, we felt like we were only people on a trail. It felt magical. 
The Maah Daah Hey trail system has nine different trails that can range in difficulty and length from 0.3 miles to 144 miles. These trails include Wolf, Long X, Summit, Overlook, Maah Daah Hey, Bennett, Cottonwood, Ice Cave and Buffalo Gap.  
This trail is attracting hikers, bikers, horseback riders and other extreme travelers from all parts of the world. Some of which include Canada, Germany, and Norway. The reason for this is because the Maah Daah Hey mountain bike trail has some of the country's most unique and breathtaking terrain in the Midwest.  
If some of you will be interested to visit the Maah Daah Hey Trail, I would suggest you go see the Devil's Pass where you will see the best views. I would also suggest you visit Ice Caves, which are hidden in a rock formation.  
If one wants a challenge, they will easily find it at the Maah Daah Hey trail without any doubt.  
A person taking on the challenge of the Maah Daah Hey trail should expect that it will not be an easy task. There are peaks to climb as well as dangerous ledges that have 300-foot drop-offs into river bottoms. Depending on the season, you may be forced to take a swim across the Little Missouri river. 
For those who prefer a more relaxed way of traveling, there are all sorts of non-motorized outdoor activities within the trail system. These include camping, bird watching and photography.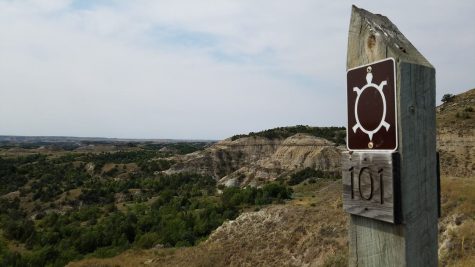 To learn more information regarding the Maah Daah Hey Trail, the Dakota Cyclery bike shop is the place to go. They have superior knowledge and high-end mountain bikes you can rent.  
Dakota Cyclery is a family-owned business that has been based in North Dakota for over 35 years. Jennifer Morlock and her husband are Dakota Cyclery bike shop owners who started their business in Bismarck in 1980, which then grew and expanded into Medora in 1994. 
If you are looking for some adventure that does not involve being around people, then come down and enjoy the beautiful fall by exploring the magical path of the Maah Daah Hey Trail. 
Olga Kopp is a Dakota Student Arts and Community Writer. She can be reached at [email protected].