Taking Over the Greenway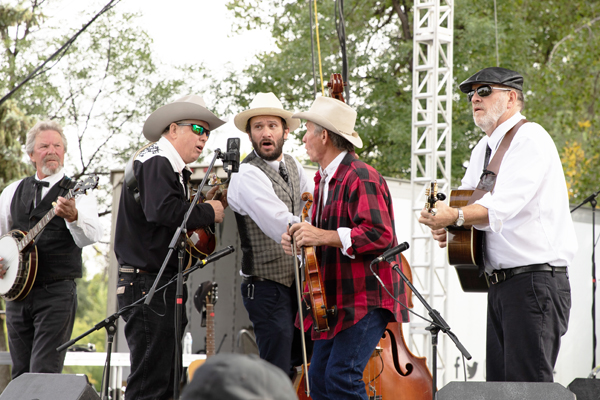 Olga Kopp, Arts & Community Writer
September 10, 2019
A little bit of this, a little bit of that is how people described the Greenway Takeover Festival this Saturday, Sept. 7.
Although it was a cloudy day, many people still made it out to the Greenway to attend this festival. 
The third annual Greenway Takeover Festival took place on the Greenway from 5 p.m. Thursday, Sept. 5, until the afternoon of Sunday, Sept. 8. 
The event was presented by HB Sound and Light in partnership with Altru Health System. Jamie Lunski is the festival organizer as well as president of HB Sound and Light.
"It took us about four days to set up the festival. There were about 40 people involved in the festival preparation," Lunski said. "We are constantly trying to make the grounds better and making them look nice, clean and professional." 
The Greenway Takeover attracts a large crowd of people from the people of the Grand Forks community.
"We should see over twenty thousand people during all four days," Lunski said.
The annual Greenway Takeover Festival is an event where everyone could find joyful entertainment. This included outdoor activities, dance, musical theater performances, library storytelling and live music.
There was a variety of street vendors and local family marketiers where people could purchase fresh vegetables, bakeries, honey, jewelry and a variety of other different things. Many organizations were representing their products and variety of services.
One of the vendors was Turtle Mountain Animal Rescue. They are based out of Rolla, ND. They gave festival goers an opportunity to adopt cute puppies. They rescue approximately 70 to 100 animals each month.
Turtle Mountain Animal Rescue volunteered for the Greenway Takeover Festival for the first time this year, and they already got one potential adopter who went online and filled out the application after visiting the vendor station.
Stacy Marto is a head volunteer at Turtle Mountain Animal Rescue and enjoyed participating in the Greenway Takeover this year. 
"It was a really good turnout with the Farmer's market, people just kind of wondered through and pet our puppies," said Marto.
Families and friends had an opportunity to play outdoor games such as Bag Toss, Giant Connect Four, ping pong as well as a giant game of chess. There was also a stunt jump, a new paid attraction in which people jump from a level 20 feet above the ground into a large pillow filled with air.
There were more than a dozen food vendors available, giving people the opportunity to choose their most favorite food. 
On Saturday afternoon, people could enjoy the songs from famous musicals and movies sung by singers from Empire Theater Company. Emily Montgomery is the executive director of Empire Arts Center and enjoys attending the festival.
"I love that there is music going on all the time, and families can play games outside together," Montgomery said. "There is something for all ages."
Holly Benjamin of Grand Forks attended the Greenway Takeover this weekend. 
"I love outdoor music, so anytime we can go outside, I go and bring my kids with." Benjamin said, "I am waiting for the Paint the Town, they are really good."
Activities at the Greenway Takeover Festival also included Story Time, presented by the Grand Forks Library, Altru Yoga activity and a Firehall Theater puppet show.
Kathleen Coudle-King, executive director of Fire Hall Theater, directed the Fire Hall Theater puppet show. She also played a puppet Jacques at the festival.
 "Bully?! Yikes! is very interesting and interactive show where children can be involved and learn something new," Couldle-King said. "It has a little message." 
The puppet show attracted a large crowd of people that consisted of people of all ages. The shows were light hearted as well as relaxed.
Charity Stegman is a volunteer coordinator at the Empire Arts Center. She has attended this event for the past 3 years. 
"I like the fact that it's a community event, there is something for everybody," Stegman said, "I just really like the event itself, it's got music, it's got games, it's got food, the one for all," 
People were able to enjoy each and every moment of the festival which is part of why it is so popular among the Grand Forks community.
"The best activity to do at the festival is to experience the Greenway during the festival at night with all the lights on the trees, just the whole atmosphere. It is magical," Lunski said.
As Jamie Lunski promised, the Greenway was lit up by many colorful lights on Saturday night. People spent the night with their families and friends enjoying good food, drinks, and live music. 
Live music played a major role at the festival. There were 25 bands scheduled to perform during the four-day event.
The grand finale of the Saturday night was presented by Everclear band performing its famous songs from the 90's. The crowd was excited to hear some of their favorite songs. Everclear put on an amazing show. 
Everyone enjoyed the festival and time spent with their families and friends. Most people would be excited to come back for the fourth annual Greenway Takeover Festival next year.