Two-Time Professor of the year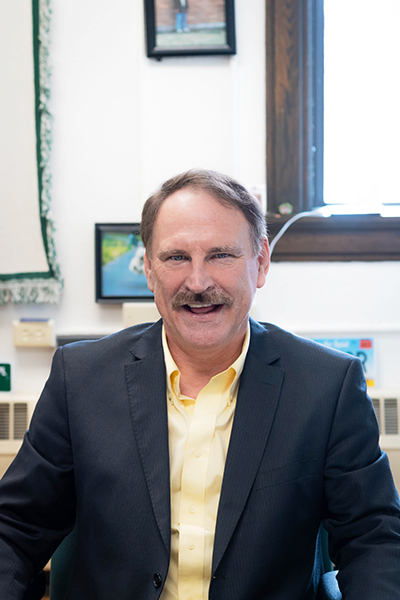 Thursday Feb. 28, 2019, sociology teacher, Frank White, was presented the Professor of the Year award for the second time within his 31 years of teaching at UND.
"To be the recipient of this award is extremely humbling," White said. "I think it is really assuring that young students nominate an old guy like me."
Each year the Professor of the Year award is given to one UND professor that excelled in teaching, research, advising, service, and collaborative governance.
"Frank is very deserving of this award and is the perfect candidate," Taylor Sagen, UND freshmen that is enrolled in Sociology 110, said. "I knew from the first time that I stepped into his class that there was something unique about him and his teaching."
"I really got lucky," White said. "We don't do it for the money or awards and I sure wasn't expecting it."
White was born in Walhalla, N.D.-about one hour, forty minutes north of Grand Forks. After changing majors three different times, he completed a Bachelor of Arts degree in Secondary Education with a major in Social Science and minors in Psychology and Business at Mayville State University. White later graduated from UND with a Master of Arts degree in Sociology with a minor in Educational Research and Statistics. He originally set out to be a high school teacher and a coach but ended up becoming a college professor.
"Coaching just didn't work out for me in the end, but teaching is similar to coaching, it is actually better," White said. "I get to 'coach' through my teaching by motivating men and women of all different backgrounds."
While White was teaching at Lake Region Community College in 1988, a professor at UND was given an opportunity elsewhere; therefore, White was offered a temporary, one-year position at UND. One year passed and his opportunity extended to another year. After White's second year at UND, a position was then created for him and he has been here ever since, and he wouldn't want it any other way.
Currently, White teaches two classes at UND, Introduction to Sociology and upper level Drugs and Society. Over the years of being at UND, many changes have occurred, but the greatest of these is the technology within the classroom.
"Improvements in technology is a double edge sword," White said. "It has allowed students to type their notes which is faster than writing them, which is great, but it also allows for easy access to social media-which is a big distraction and makes it challenging to keep students engaged throughout the whole class period."
Alongside teaching at the university, he travels often to area high schools to speak to students about drugs and the effects it has on society. In addition to being a professor and speaking at high schools, for the past seven years, White has held a golf tournament in his hometown to raise money for academic scholarships that are awarded to UND, Mayville State, Lake Region State, and the American College of Norway students. Over the past seven years, the tournament has raised over 120,000 dollars.
"Frank is enthusiastic about what he teaches and that shows a lot through his lectures, many of which are interactive," Megan McKenzie, UND junior, said. "He addresses topics that are relevant to students and is good at presenting them in ways that are interesting and understandable."
White's favorite part about teaching is meeting new students and really creating a connection with them.
"The students keep me young at heart," White said. He does have thoughts of retirement but said, "I will continue to teach as long as the students continue to show up and stay engaged."