Hawks Take Down the Grizzlies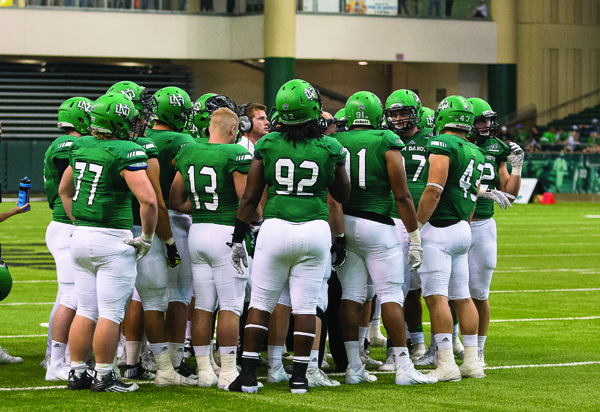 The UND Football team had a statement win on Saturday over the Montana Grizzlies. They won in impressive fashion with a final score of 41-14.
While the offense performed at an extremely high level, the defense is really what set the tone early on for the Fighting Hawks.
On the opening drive for the Grizzlies, quarterback Dalton Sneed was picked off by UND's Deion Harris. This led to a ten yard touchdown strike from UND quarterback Nate Ketteringham to junior wide receiver Noah Wanzek. This was the first of two touchdowns between Ketteringham and Wanzek on the afternoon.
The opening drive turnover for Montana would prove to be a continuing trend throughout the game as UND forced turnovers on the first three drives. All three of those turnovers led to UND touchdowns. Montana's fourth turnover came in the second quarter off a forced fumble by defensive back Evan Holm. Like the first three turnovers, this would also lead to a UND touchdown.
Technically, that was it for the Montana turnovers. To recap, there were three fumbles and one interception, all of which led to UND touchdowns. But Montana would also turn the ball over on downs midway through the second quarter. A turnover on downs isn't technically considered a turnover in the box score, but it sure feels like one, especially when that gives UND great field position and they score a touchdown two plays later.
At the half, UND was up by a staggering 34 points. More impressive than that was the fact that the Fighting Hawks held Montana's high-powered offense to zero points in the first half. If the game wasn't incredibly out of hand by the fourth quarter, it's quite possible that UND would've shut out Montana for the entire game, but it's safe to say the game was basically over at halftime.
When asked about the hot start, "We give all the credit to the defense on that," Ketteringham said.
UND, who's usually known for their ground attack, came out firing with the passing game right away.
North Dakota head coach Bubba Schweigert was asked during the postgame press conference if he thought this might have been a surprise to Montana. "Maybe, but we felt like we could take some shots on 'em and Nate's pretty skilled," Schweigert said. "He can throw good deep balls and we got behind 'em a couple times and I think they fell down on one."
Speaking of Nate's pretty good deep ball, the junior quarterback had a career outing. He threw for 254 yards and had five total touchdowns (four passing, one rushing). All five touchdowns came in the first half.
UND's successful aerial attack didn't cause them to abandon the running game all together. They still put up an impressive 282 rushing yards largely because of James Johannesson's impressive afternoon.
Johannesson finished the game with 108 rushing yards on 16 carries. He also found the end zone once in the fourth quarter.
John Santiago and Brady Oliveira also had nice days on the ground, tallying a combined 130 rushing yards on 25 total carries.
UND will look to continue piling up wins as they head to Sacramento for their next game on Oct. 20 to take on the Sacramento State Hornets.