Where to get a cold one after the big game
Rhombus Guys or Half Brothers: which local brewery fits you best?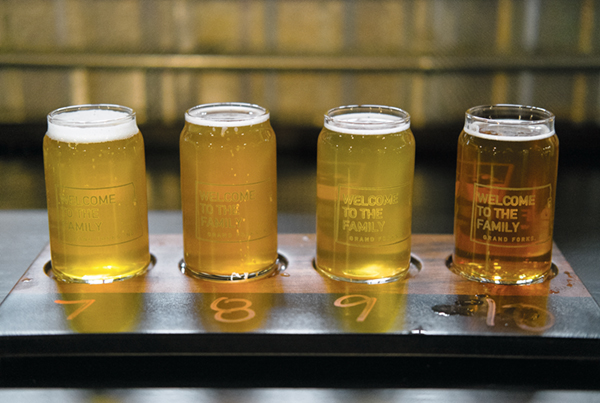 Grand Forks isn't known for its breweries, but in late 2015 Rhombus expanded their famous pizza place to include their own beers. The community was excited to finally have a brewery to add to the many restaurants that take space in the Grand Cities. Two years later the brewery is still thriving.
This October, Half Brothers brewery opened and many people asked the question: what's the difference? Half Brothers took a new direction than Rhombus had when they opened. Half Brothers allowed people to peer into their brewery and see where their beers were made. With the same idea, they made their kitchen an open concept. Rhombus keeps their brewery hidden in the back, displaying a restaurant that specializes in beer.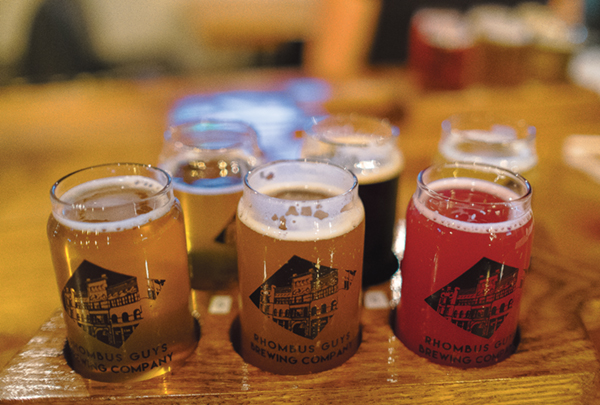 Half Brothers made their brewery open for all ages, allowing the whole community to engage in their fun. Rhombus' brewery is 21+ to separate it from their restaurant. Although both have their own creative feel, they bring their own tastes to life.
So I started out my hard day of work at Half Brothers, trying out the new beers. I went against the rules of going light to dark and began with the Coffee Brown Nitro. Nitros are made with nitrogen rather than the usual carbon dioxide. The smooth, milky consistency with a chocolate and caramel forward taste was nothing like usual bitter coffee nitros and stouts. Also, this nitro was made with Grand Fork's own Bully Brew Coffee.
I moved onto the Oktoberfest, which was less powerful and slid down easier than the beers I had at the Oktoberfest Pub Crawl earlier in September this year. I made my way up the list to the Chokecherry Göse. The sour beer gave me a break from the heavier beers I tried, and it gave my sweet tooth a kick start.
Half Brothers inclusive environment allows people to use the bar to sit close with their friends or use the community style benches to sit with a mixture of people. Their community ideal can be seen in the seating itself.
While casually talking with Chad Gunderson, he said the glasses are meant to be brought up for each beer. Instead of washing an average of two to three glasses per person, the company can conserve some water by just rinsing the inside between different beers the individual customer has.
Next, I headed over to Rhombus Guys. Again, I tried a nitro, an Oktoberfest and a sour. To get the same effect, I washed away the previous beers with water and tried the beers in the same order I had at Half Brothers.
The nitro I had was the Into the Darkness. The Into the Darkness comes in CO2 as well as nitro. Its dark taste balances a bitter coffee with a sweet chocolate. The first moment it hits your tongue is where all the flavors are. I then tried Rhombus's Oktoberfest which was a bit heavier than Half Brothers until the clean finish. The only sour on the menu was a fairly new one from what the waitress told me. The Blackberry Boogie was extremely tart and fruit forward. This sour definitely pinched my cheeks.
Rhombus' individual style from their restaurant definitely carried over to their brewery. The exposed brick, local art, foosball and pinball machines make a fun place for friends to gather. The bar is located in the middle of the brewery, making it more closed off and intimate for better one-on-one interaction. It's also easier for a group of friends to have their own space.
Although both are breweries, Half Brothers and Rhombus have completely different business styles. As I see it, Rhombus is a brewery that welcomes newfound beer lovers looking to expand their horizons. Rhombus's beer style is more one noted, meaning the beer's flavor hits you at first and then smooths out for an easy drink. This kind of beer is easy for Bud Light or Budweiser regulars that want something more than what they're used to. Rhombus gives people the ability to dive into the craft beer scene without deterring them from adventure.
On the other hand, Half Brothers has a multidimensional taste factor. Their beers change flavor depending on where it hits on your palate. I recommend Half Brothers for people that have had their share of craft beer. The full body flavor could be too much for a religiously light beer drinker. For those looking to expand their knowledge on craft beer and training themselves to taste more, Half Brothers is a good local brewery to visit.
Shelby Johnson is the features editor for Dakota Student. She can be reached at [email protected]