New Heights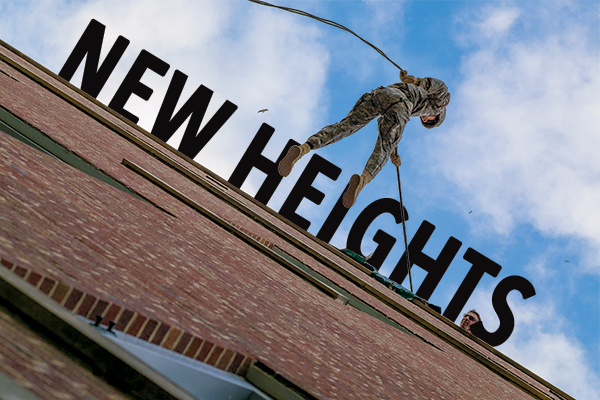 A pair of electric blue Nikes stand on the edge of Columbia Hall's roof, the large white "swooshes" wavering in the late afternoon sunlight. Below are dozens of students and onlookers, staring quietly at the scene. From this height (nearly 70 feet), the tree-lined sidewalks and post-war houses of 4th, 5th and 6th avenue resemble miniature dioramas of the perfect American neighborhood.
"Just jump over the wall!" shouts the sergeant. With one step, the owner of the Nikes begins his slow descent down Columbia Hall, hanging on to both his army-green rope and the directions being shouted at him by the sergeant that's peaking his shaved head over the building's edge.
Tyler Collins, a freshman and aspiring pilot, has never rappelled off of a wall before.
Though he has experience in the National Guard, he has joined the University of North Dakota Army Reserve Officer Training Corps looking to "expand (his) military portfolio."
On Thursday, Sept. 21, the ROTC coached several young cadets like Collins through rappelling down one of the tallest buildings on campus as way to inspire them and retain them within the program.
"It's kind of an exciting event that can help kids build confidence and something that we do in the army is rappel so a lot of people are afraid of heights," Senior Army Cadet Haley Balzart said. "So when you do something and you look back and say, 'wow, I did that and I'm pretty confident in myself' so it's just kind of something to get students involved."
Balzart said the cadets had been training for two weeks by practicing tying hip rappel seats with rope and rappelling off of a smaller practice wall in the armory. This training was led by older cadets who had graduated from Air Assault School.
Despite their training, there was obvious tension among the freshman and sophomore students as they prepared, both mentally and physically, to walk up Columbia Hall's five stories. Next to their camouflage-clad peers, they seemed particularly unorganized wearing a variety of outfits including overalls, Minnesota Wild t-shirts and even the stock UND shirts given to freshman at the start of the year pep rally.
"Anyone here who does not have a Kevlar, raise your hand," shouts the cadet in charge, referring to the hard Kevlar helmets used by the Army. Most of the hands in the small crowd go up.
Surveying the scene, Senior Cadets Michael Jaeger, Jon Elmore and Allen Newell stand away from the action, perhaps thinking about how similar the newer recruits are to their past selves.
"Probably four years ago I would say be prepared for the time commitment," Newell said, "If you're going to commit yourself to ROTC – it comes with a substantial amount of commitment you put in and what you get out. Like everything we've put in, we've already received back, we'll commission in less than a year so everything we've done is coming to fruition now in our senior year."
The other two men agree that while ROTC has been a significant lifestyle choice, they feel they have benefitted from it.
"We have a different schedule than all our peers, but we're still able to have a normal college experience too," Jaeger said. "Still have normal friends, still have different majors. There's a lot of majors in this program and so we're able to do everything that a normal student would with just a little bit more of a professional commitment while we're in college."
Elmore said that one important element of the program to him was the social dimension of it.
"The biggest thing for me was it was a good way to meet friends because I'm from California and I came here in spring semester, so I didn't really know anybody and everybody in ROTC was very welcoming to me and I met some of my best friends here," he said.
Students enrolled in the ROTC program can choose to either contract into the Army after their sophomore year or to leave the program. Though they lose many cadets after these first two years, Jaeger says they'll "ask any cadets that do leave the program that they still had fun while they did it; they still enjoyed their freshman and sophomore year."
Tyler Collins has finished his descent, the third cadet successful in the endeavor. Today, he says he has "no regrets at all."
Diane Newberry is the news editor for Dakota Student. She can be reached at [email protected]