Swinging for scholarships
Frank White hosts sixth annual golf tournament in his hometown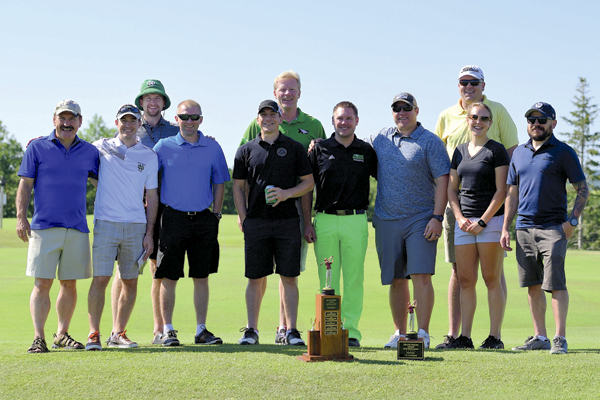 After looking forward to it all year, a wide range of golfers gathered at the beautiful Walhalla Country Club for the sixth annual Frank White Golf Tournament on July 8. This annual tournament is put together by Frank White, a native to Walhalla N.D. and a sought after professor in the University of North Dakota's sociology department.
The tournament guest stars former athletes from the UND athletics department and every year attracts a sellout crowd. This year's special guests included UND men's hockey program alumni Andy Kollar, Andy Schneider, Karl Goehring, Jeff Panzer, Robbie Bina, Jake Brandt and Zane McIntyre, UND men's Basketball alumni Steve Brekke and Mike Mathison and UND women's hockey alumna Shelby Amsley-Benzie. This marked the first year that the tournament was able to feature a female athlete.
In the early hours of the sunrise, participants piled into the clubhouse to peek at what the tournament prizes had in store. White has been able to present great prizes donated by generous donors such as autographed jerseys, helmets and other sports equipment from current and former UND student-athletes, golf equipment and beautiful woodwork furniture.
As golfers began to tee off, the level of excitement rose even higher, the event had officially begun and for some this was their first experience at what this tournament was all about.
"I haven't ever done a golf scramble," Amsley-Benzie said. "Our group is really fun so we're having a good time, and the weather is beautiful so you can't beat that."
Nothing but blue skies made for a perfect day for golf, drinks and good times which when asked what makes this tournament easy to come back to, seemed to be the common answer with all the returning golfers on the course that day.
"The good people, first and foremost I just enjoy being around here and seeing the Sioux faithful," McIntyre, who recently inked a two-year two-way deal with the Boston Bruins, said.
If it wasn't the people and the environment that brought the people together on course the glue that held them all together was the host himself, Frank "Koko" White.
"My favorite part about the tournament is being able to see the former students and student athletes come back that were students of Frank and the kind of respect they have for him," Brekke said.  "They are willing to give up a Saturday and come up to Walhalla and golf in a tournament that supports a really good cause, which is scholarships for students."
Former student Andy Kollar, who has been coming ever since the tournament started, credits his appearance at the tournament to giving back to all White has done for him.
"I absolutely loved him when I was going to school," Kollar, who played on the '99-'00 UND National Championship team, said. "He's such a great guy he's so passionate."
Karl Goehring added: "I really enjoyed Frank as a teacher, he does a whole lot for so many people so to help him out and help his cause is a great deal."
Not to leave out the beautiful location and the people, "The town absorbs everybody and they 're so giving and so friendly," Kollar said.
In the six years of hosting the tournament, White has been able to establish endowed academic scholarships at Mayville State University, Lake Region Community College and the University of North Dakota.
Thanks to the generosity of all the donors and participants, White raised over $12,000 for the endowment.
As this year's tournament came to a close, many attendees left with new memorabilia and prizes, but the coveted first place trophy was awarded to the team lead by former UND goaltending coach, Karl Goerhing.
With the tournament come and gone, White is now working on next year's plans already. Those who are interested in signing up to be a part of the special event can contact him at [email protected]
Donations to the Frank White Endowment scholarship here on UND's campus can be made all year round by contacting Steve Brekke  at [email protected] or online at UNDalumni.org/givenow.
Allyson Bento is the sports editor for Dakota Student. She can be reached at [email protected]