The Art and Wine Walk returns to Grand Forks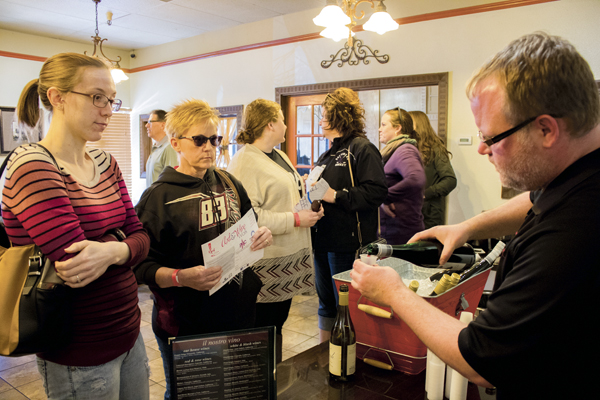 Saturday, April 22 marked the first of four days of the annual Art and Wine Walk,  which features wine samples and showcases the work of local artists at various participating businesses in downtown Grand Forks and East Grand Forks.
This year, participants began by purchasing maps at one of the starting locations, Brick and Barley or the Blue Moose, and walked into all the participating businesses to try some wine, meet artists and hit all the stops to complete the stamp collection on their maps to receive a souvenir wine glass and a free drink at the end of the event.
For the local businesses in the area, the walk is the perfect opportunity to interact with their customers while also introducing themselves to those who may have never been there. For Jane Moss, the owner of Boardwalk Bar and Grill in East Grand Forks, this first year back after a short break from participation allows the restaurant to give a small taste of what they offer.
"It brings new people in that haven't been there before," Moss said, while pouring me a sample of a bold red, "We have extended the wine list and  it gives them an idea of what we are, what we look like, if they've never been here before."
Depending on their type of work and the needs of their displays, artists were assigned to participating businesses where participants could enjoy samples of wine while admiring and even purchasing the work of local artists. For Ra'chel Alexander, of Ra'chel Studios, the Art and Wine Walk is an excellent way of getting exposure as an artist and meeting new people that she wouldn't have otherwise.
"The walk brings out a different group of people," Alexander said, while a group of walkers admires her  colorfully vivid acrylic paintings of sea turtles and other animals at her display at Whitey's. "There's more people here than just those who goes to the museum and shows and talk about art. It brings people who are here to look at the businesses and wine. You get to meet new people and make new acquaintances, which is pretty nice."
This years walk differs from the last in that it allowed establishments to serve non-alcoholic samples, which expanded the diversity of businesses that participants in the event.
The Ember Coffee Cafe, right across the street from the starting point that was Brick and Barley, gave out samples of their in-house made chicken and wild rice soup, which was a tasty way of preparing myself for the 15 stops on the map, where each stop served a one ounce sample of their featured wine. Their soup was served along with a sample of their nitro-cold brew coffee, which some people would never have chosen over a regular hot or iced coffee if they've never been given a chance to sample it before.
The River Walk Artists Gallery, located in the same building as Red River Cinemas in East Grand Forks, also chose to offer a non-alcoholic, but more than refreshing strawberry basil lemonade and a variety of hummus dips with pita bread.  Being a gallery, it took advantage of the event by showcasing the work of various artists, including Brenda Baumer, an oil and acrylic painter who donates part of her revenue to the Relay for Life Foundation.
The event exceeded my expectations in that it was more than just a fun way to enjoy the warming temperatures and explore the downtown area through wine samples. It was an opportunity to meet and talk to the business owners and artists. At each stop, they shared stories about how they came to be, either as  business owners or painters and craft makers, and all of them were passionate about their work and giving back to the community that has given them so much.
Chad Thomas, the owner of Mamma Maria's Italian Restaurant and Pizza, explains the event is great exposure for his family-owned Italian Restaurant. He enjoys being a part of something that helps the community.
"It helps out some great organizations, like the Downtown Development Association and Public Arts Commission," Thomas says, while serving me a sample of a sweet moscato to go with a hearty serving of the restaurant's pepperoni penne. Thomas is also on the board of directors for the Public Arts Commission.
"I'm passionate about it," Thomas said of the commission's work, "and I do feel that art is very important."
The Art and Wine Walk is an excellent summer experience that allows UND students and first-time participant Christopher Bingen concluded the event
"I like the diversity in art. I like that you could get a sense for the different artists' styles," Bingen says, while admiring the artwork made of recycled materials of Chelsea Skare at the Blue Moose. "Of course, the wine samples were excellent and a great way of getting a feel for all the businesses in the area."
Stephanie Hollman is a staff writer for The Dakota Student. She can be reached at [email protected]