Get your BBQ on at Wild Hog
If you are looking for a BBQ pit in town, head to Wild Hog Smokehouse Bar and Grill. Wild Hog is one of my favorite Grand Forks restaurants. It is mouth wateringly delicious for a great price. My friends and I go there all the time.
Wild Hog is Grand Forks' first ever smokehouse bar and grill. It's located on the south end of town by Choice Fitness. You will find it off of South Washington Street and 44th Avenue South, open everyday from 11 a.m. to midnight. Their kitchen closes at 11 p.m.
Wild Hog has an at home, comforting, sports bar atmosphere. I have always had very good service when I go to Wild Hog. They serve you right away, and the staff is very friendly. The waiters/waitresses are also helpful with the menu items if you are unsure what to order.
Wild Hog offers an easy to read menu featuring many tasty items. Almost everything on their menu includes BBQ, but there are some alternative options as well. If you are a vegetarian, this might not be the place for you. They serve racks of ribs, beef brisket, pulled pork, pulled chicken, wings, steak, a variety of wraps and sandwiches, salad and lahvosh with some unique but delicious toppings.
My personal favorite, and must have menu item, is their "Dills in a Blanket" appetizer. I order this every time we go to Wild Hog. "Dills in a Blanket" are dill pickles wrapped in smoked bacon and swiss cheese, breaded in a lightly fried egg roll wrap, cut in half and served with Wild Hog's signature Cajun dill ranch dip. It is the perfect amount for two, and you will not stop craving these.
Wild Hog has many signature sauces they like to brag about, especially their BBQ sauces. They have four signature BBQ sauces ranked by spiciness at every table. There is the signature honey BBQ sauce (sweetest), savory BBQ sauce, Hog's Breath (most popular) and Boar's Blood (spiciest).
The flavors and tang is different in every sauce, it is not just about the level of spice. I recommend you try them all. You can even purchase these signature BBQ sauces in bottles if you decide you really love one.
If you are feeling extremely hungry and victorious, try Wild Hog's challenge. Their slogan is, "Are you SWINE enough for the Wild Hog challenge?" so you can only imagine what you are in for.
Their challenge includes an extremely large Texas toast sandwich stacked with a half pound of pulled chicken, a half pound of pulled pork, a half pound of beef brisket, topped with honey BBQ sauce, lettuce, tomatoes, onions and pickles. There is also a half pound of french-fries. Challengers have to eat this four pound meal in 30 minutes or less. Good luck.
Wild Hog also offers some amazing food and drink specials. Their happy hour is Monday through Friday from 3 to 6 p.m., and Monday through Thursday also includes a happy hour from 9 p.m. to midnight. The happy hour specials include $3 off appetizers, all pint beers cost $2.75 to $4.25, and all tall draft beers cost $3.25 to $5.
If you are 21 or older and looking for some fun, Wild hog also does $1 mystery shots, all day every day. This is no longer on their menu, but they still offer them if you ask.
They also have a lunch special that is from 11 a.m. to 2 p.m. Mondays through Fridays which includes a $5 hamburger, pork or chicken sandwich. Wild hog also has some cheap daily specials that you don't want to miss.
Mondays through Thursdays the special's run from 5 p.m. to close. The Monday special is $4 nachos. Tuesday you can get pork sliders for $5. Wednesday is rib night, so you can get a third of a rack of ribs served with coleslaw, beans and french fries for only $10. And Thursdays is $4 nachos again.
The weekend changes the game of the specials. On Fridays and Saturdays, Wild Hog has a prime rib special which starts at 4 p.m. and goes until they run out of meat. Sundays has the $4 nacho special again.
If you are looking for a great bloody mary, Wild Hog offers a loaded bloody topped with pickles, olives, cheese, onion rings and bacon. They use a signature onion and pepper infused vodka in their mysterious bloody mary mix. This mini meal/drink normally costs $14, but on Sundays they are only $10.
I strongly suggest you head to Wild Hog Smokehouse Bar and Grill if you love BBQ and comfort food. You will not be disappointed.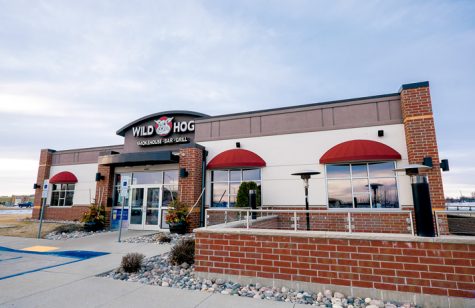 Jordan Hermes is a staff writer for The Dakota Student. She can be reached at [email protected]