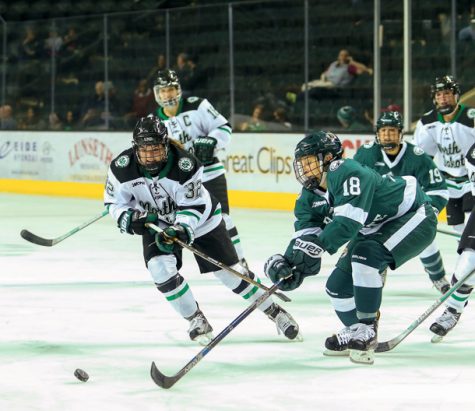 Jake Andersen, Staff Writer

January 27, 2017
After a pair of heartbreaking losses to the No. 1 Wisconsin Badgers, the UND Fighting Hawks women's hockey team looks to get back into the win column this weekend against the Bemidji State Beavers. Losing two tightly contested games in Wisconsin dropped the Fighting Hawks to a record of 12-9-5 (9-7-4-2 WCHA), but UND has a case...
Hunter Plante, Staff Writer

October 28, 2016
The University of North Dakota men's hockey team swept the Bemidji State Beavers in two games at the Ralph last Friday and Saturday. This weekend, the UND women's hockey team will be looking to do the same thing to the Beavers in a home-and-home series. It won't be an easy series for the Fighting...