International House of Pancakes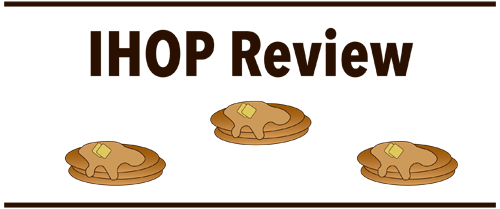 In Grand Forks and the rest of the country, IHOP is synonymous with American breakfast dining.
The IHOP on 32nd Ave. is no exception, and on Saturday and Sunday mornings, it is packed with families of all kinds, students and honestly, people who chose to go there because the wait time is shorter than that of Denny's across the street.
After 30 minutes of standing in the crowded lobby, my party was seated by a kind waitress who instantly offered apologies for the lengthy wait and took our beverage orders almost immediately. My order of coffee came quickly and just how I like it: in a liter for easy refills. Their menu is  expansive, and includes everything from breakfast, lunch and dinner options.
Its breakfast menu offers guilty-pleasure breakfast items that, if ordered at any other restaurant at 7:30 in the morning, would be considered over-indulgent. Currently, their seasonal menu includes bakery-inspired items such as red velvet french toast, cinnamon roll french toast and sticky bun waffles.
The red velvet french toast is two slices of velvety red velvet cake trying to disguise itself as a normal breakfast item. It's fried in a French-toast style, but instead of being soaked with egg before frying, they use a vanilla batter.
As if cake soaked with batter wasn't enough to satisfy those with the sweetest of sweet tooths, the toast was slathered with cream-cheese icing. I enjoy sugar, even for breakfast. However, the red velvet french toast is something that should be sold as a dessert in itself and not a side item to a breakfast combo.
The cake was too sweet, and the cream cheese made it even sweeter. Though the eggs and sausage should make the entire meal more breakfast-friendly, the toast's sweetness overpowers the entire meal. The cinnamon roll french toast is not much better when it comes to sugar content, and I expect that the sticky buns are just as sweet.
My recommendation when it comes to these seasonal bakery-inspired items? Skip them in the breakfast, unless you'd like to end up with an upset stomach that early in the morning. After having dinner at IHOP (or elsewhere), come back and split one of them for dessert with a few friends.
If you don't enjoy straying from the ordinary, the IHOP menu includes its Signature Favorites items, such as the t-bone steak and eggs and the big steak omelette.
Though it may also fall on the over-indulgent side of breakfast items, the big steak omelette is a much better choice than the bakery items on the seasonal menu. The omelette is full of strips of steak, sliced mushrooms, diced tomatoes and green peppers. The combo includes sides of hashbrowns, toast or fruit and three pancakes that you can upgrade to one of the specialty ones they offer.
With its vast menu options and convenient hours (its open 24/7), the IHOP in Grand Forks is a great choice for a meal or dessert. To shake up our normal dining experiences at IHOP, I recommend ordering a few different items and sharing everything with a group of friends.
Stephanie Hollman is a staff writer for The Dakota Student. She can be reached at [email protected]