Lady Hawks take it to the top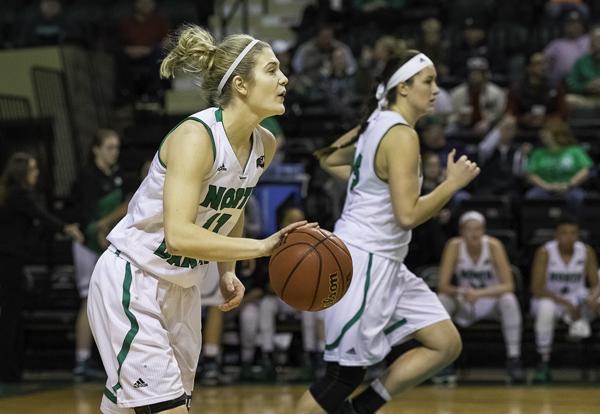 The lady Hawks were on the road this weekend to face the Big Sky top competitors, Northern Colorado Bears, a match that would decide who takes the top spot and the Fighting Hawks did not disappoint.
North Dakota was able to deal Northern Colorado their first loss in conference play this season in a close match that ended 57-51 snapping an 11-game win streak for the bears.
"I'm proud of this team because they are playing for each other and they just work hard," UND head coach Travis Brewster said. "We played some great defense today and it was a good team win. I thought Grace Sawatzke gave us a great lift offensively and defensively off the bench. There is a reason that Northern Colorado is receiving votes in the Top 25 poll, because they are a very good team and this game could've gone either way."
The Hawks starters made their contributions but the UND bench tallied major points with 26 of the 57 coming from sophomores Grace Sawatzke, Jill Morton and senior Samantha Roscoe.
Pushing UND further into their current six game winning, sophomore Fallyn Freije lead the team in points with 10 points, and also nabbing her third double-double of her career with 10 rebounds.
Freije has played in every game this season, starting in all but one, and has posted 10.4 points per game with 6.5 rebounds per game.
With a low scoring game, both teams struggled to find success as they both shot for less than 30 percent accuracy on shots from the field. UND had an advantage over UNC on 3-pointers with 35 percent accuracy in comparison to the bears 16 percent, but where the bears fell short they picked up with 88.2 percent free throw average, double UNDs 43.5 percent.
UND carried the lead right from the get go and did not let up on the bears, however the bears were abke to crawl with a mere five point deficit leading into the final minutes, gaining momentum. Unfortunate for the Bears, their momentum shift came too little, too late and UND took the win away.
North Dakota has won the last four matches against Northern Colorado on their home court and this win adds to the now 11th straight Big Sky road win streak.
The Hawks will continue on the road while they head to Eastern Washington, Thursday Feb. 9. The Eagles are not far behind in Big Sky standings sitting at 7-3 in conference and 12-9 overall. The match is set for 6:05 p.m.
Allyson Bento is the sports editor for Dakota Student. she can be reached at allyso[email protected]