Hawks showcase next man up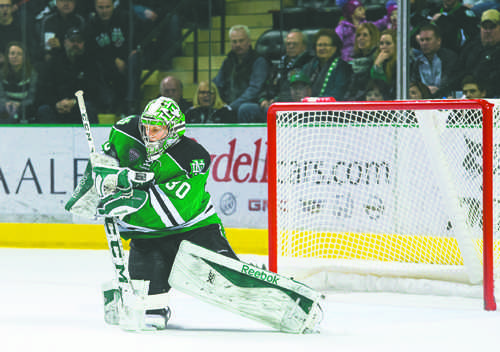 Gaps in Hawks lineup shows potential in other lines in a split series
Fighting for redemption after a sweep against the Minnesota Duluth Bulldogs, the Fighting Hawks flew to Colorado Springs looking for a different result.
The Hawks had a couple spots to fill in their line up against the Tigers, including captain Gage Ausmus, freshman top line forward Tyson Jost and most notably, starting goaltender Cam Johnson was no where to be found on the bench.
Stepping up in his absence, Matej Tomek made his first collegiate start in a regular season game on Friday. But despite his best efforts, the Hawks were down 2-0 in the first and head coach Brad Berry opted to start senior tender Matt Hrynkiw for the remaining periods.
The 2-0 deficit was cut in half early in the second to provide hope for a comeback as the Hawks headed into the third.
It wasn't until 5:19 left in the final period the go ahead goal scored by Hayden Shaw that really opened the floodgates. After Shaw's goal, Dixon Bowen followed with Shane Gersich soon after, UND went from down 2-1 to up 4-2 in less than 3 minutes. An empty net goal by Joel Janatuinen helped the Hawks secure a 5-2 victory.
"We're proud of the way they battled for 60 minutes," Berry said. "The first period wasn't the way we predicted the game would start, but the most important thing was how we responded the next 40 minutes. Our guys didn't give up."
To add, UND outshot Colorado College 36-15 in the last two periods after being outshot 6-2 in the first period.
It was a good showing in net Friday for senior goaltender Matt Hrynkiw, who came in after the first period to stop all 15 shots his way.
Last year Hrynkiw stepped up big when Cam Johnson went down with an injury to start the season. With Johnson being a late injury scratch, Hrynkiw came up big again.
"As a staff and as a team you have to do whatever you have to do to get a win here," Berry said. "The biggest thing with Matt is he's been through that before. Last year when Cam got injured he came in and did a good job. Our guys responded and he made a couple of tough saves in the second period to keep us in there."
Unfortunately on Saturday night, the Hawks ran into a hot goaltender that shut the door on them.
CC freshman Alex Leclerc was in the zone Saturday night as he registered a remarkable 45 save shutout against the 12th ranked team in the country.
"I thought we were going to pop one in any moment throughout that game," junior Tucker Poolman said. "The guys worked hard and we got some good looks. We just couldn't get one to go in. [Leclerc] played outstanding. Give credit it him."
"Alex was great in net," CC head coach Mike Haviland said. "He kept us in the game during the first period."
With the split of the series, UND now sits at ninth in the pairwise rankings while also fourth in NCHC standings, trailing Western Michigan by three points.
"We have to make sure we keep taking a step forward," Berry said, "because we sure didn't take a step backward tonight."
UND will play host to St. Cloud State who is coming off a heartbreaker this past weekend losing to Minnesota Duluth in overtime at the North Star Cup.
This will be the second time these two face this year with the Hawks sweeping the Huskies in St. Cloud earlier this season.
UND will be looking for important NCHC points this weekend with the first game Friday, puck drop is slated for 7:37 p.m.
Jack Harvey is a staff writer for Dakota Student. He can be reached at [email protected]