Trying to avoid an avalanche
UND attempts to get back on their feet despite gaps in their lineup
After being swept by Minnesota Duluth, the UND Fighting Hawks will be looking to bounce back against Colorado College this weekend.
"We've done well on the road and we need to remember how we want to play on the road," head coach Brad Berry said. "It's a very important weekend for us."
It wasn't a series to remember for UND, as the sweep bumped the Hawks out of the top 10 in national rankings.
"You can't let frustration get into your game," Berry said. "Obviously we were disappointed what happened last weekend playing against a very good Duluth team."
After the weekend, the Hawks sit at 13-9-3, which is drastic different compared to last year's team who only lost six games in regulation.
"Obviously we take pride at home, winning in front of our home fans in this beautiful rink,'' UND junior center Johnny Simsonson, a Grand Forks native, said. "It's too bad we haven't been able to have a better record. We take that to heart."
"
We've done well on the road and we need to remember how we want to play on the road. It's a very important weekend for us.
— Brad Berry- Men's Hockey head coach
What everyone has seen as a blessing, having an arena like the Ralph has proved to be somewhat of bad luck  this season.
"I think there's always pressure there,'' Simonson said. "I'm not sure I can put my finger on it, why home ice has not been as good as last year. Definitely we need to take more pride in playing in our own building.''
The losses put UND in fifth place in the NCHC trailing fourth place Omaha by two points and only leading sixth place St. Cloud by one point.
On a positive note, UND this season has played better on the road and no one seems to have a definitive answer why.
"Our road records been very good this year, especially in the second half," sophomore Rhett Gardner said. "So we're excited to get out there."
It could be the chemistry that they develop being together so long in an unfamiliar place and getting to know the arena together.
"On the road, guys just hang out a lot more and create a little chemistry," junior Austin Poganski said. "For some reason we've doing really well on the road so I guess as bad as it is to say it's kind of nice to get out of here and get away."
Colorado College didn't have a weekend to remember either.
The Tigers were also the victims of a sweep by Western Michigan this past week. The sweep put them in a four game winless streak as well as only winning three games since November fifth (3-12-2).
"They're last in place," Gardner said. "But it's never an easy weekend playing in the NCHC so we got to be ready to go."
With the record in the last 17 games, Colorado College finds themselves 6-16-2 this season with a 2-10-2 record against NCHC opponents.
The Tigers have been struggling the past few seasons, and currently sit in last place in the NCHC. Since the birth of the NCHC, Colorado College has finished last in all but one season when they finished second to last in from of Miami Ohio.
Statistically, Colorado College has been struggling in net. Combined, CC goaltenders have let in an average 3.39 goals in a game while only having a save percentage of .886. Comparing those to UND goaltenders, they are averaging 2.46 GAA and a .901 save percentage.
The same is shown offensively. For the Tigers, Mason Bergh has been the main man scoring 12 goals and getting five assists to give him 17 in 24 games played. For the Hawks, Shane Gersich continues to lead the way with 17 goals and 14 assists to give him 31 points in 25 games played.
This weekend will be the first time the two faced since a year ago when they tied the first game with UND winning a shootout and the Hawks also dismantling them 5-1 the following game. All time UND leads the series 154-80-11.
"We've done well on the road and we need to remember how we want to play on the road," Berry said. "It's a very important weekend for us."
The Hawks land in Colorado wednesday night with the series slated to begin Friday Jan. 27 with a  8:37 p.m. puck drop,  at the Broadmoor World Arena.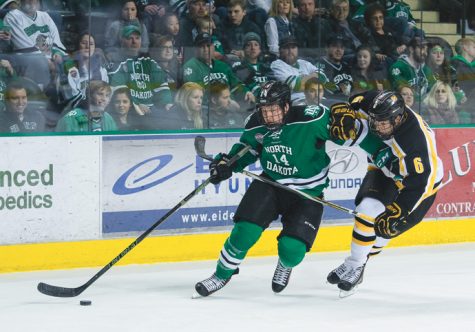 Jack Harvey is a staff writer for Dakota Student. He can be reached at [email protected]