Rushing to the Championship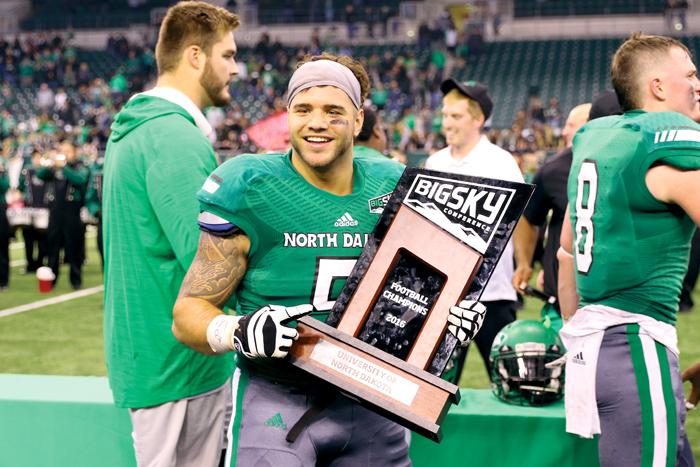 Jack Harvey, Staff Writer
November 18, 2016
Three years ago, Southern Illinois assistant coach Bubba Schweigert was named as the 26th head coach of the University of North Dakota football team.
Coming off a 3-8 record, there was a need for change. Since switching to the Big Sky in 2012, UND had a record of 8-14 before Schweigert took the reins. A coordinator for the 2001 Division II championship team, he knew what it would take to win.
"We strive to win the Big Sky Conference and, ultimately, reach the pinnacle of FCS football." Schweigert said when he was brought into the program.
Now, after three years, a snub from the playoffs last year, a nine game winning streak, and a come from behind victory which included 28 unanswered points, the University of North Dakota Fighting Hawks are co-champions of the Big Sky conference.
"I'm just so proud of this football team," head coach Schweigert said. "They never gave up and kept fighting right there until the end. We got huge plays in all three phases of the game and what a great way to cap the regular season for our senior class."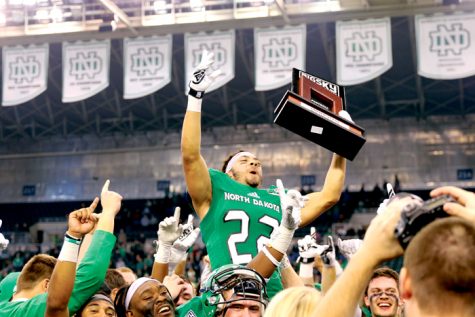 With the win, the Hawks not only rank a school high eighth in the FCS stats poll, but have finally cracked the top ten in the coaches poll.
After a slow start to the season losing the first two on the road including a tough 27-26 loss to Bowling Green, UND put on a show for the Alerus faithful in a thrilling double overtime victory over former North Central Conference South Dakota which included scoring 20 straight points.
Following the Potato Bowl victory, the Hawks set off to what really made or break the season, eight Big Sky matchups. They held on to a wild one in Bozeman, Mont. winning 17-15, and from there it was an easy flight outscoring the next seven opponents 232-138.
To help outscore opponents UND averaged 271 rushing yards a game as well as 174 passing yards a game. The running back duo of John Santiago and Brady Oliveira combined for 1,761 rushing yards and 16 touchdowns on the ground.
Not only did the two-headed rushing monster have a good season on the field, quarterback Keaton Studsrud was a main cog in the offense as well, finishing fourth in rushing on the team with 188 rushing yards and five rushing touchdowns. The junior from St. Louis Park, Minn. is effective as a mobile quarterback, Studsrud also finished the season with 1,816 passing yards and 12 touchdowns with only two interceptions giving him an efficiency rate of 134.4 in 10 games played this season.
Of course the best offense is a good defense and that's exactly what the Hawks defense had this season holding opponents to only an average of 91.5 rushing yards a game.
"
They never gave up and kept fighting right there until the end."
— Bubba Schweigert
UND picked off 20 passes and with four of those returned for touchdowns. That's not to say that the pass defense was a complete slouch. Led by Deion Harris' five interceptions, three of which were returned for a pick-six.
The stingy defense was apparent throughout the season with 24 sacks and nine fumbles.
On the other side of Big Sky co-champions, Eastern Washington looks to end a season on its' own nine game win streak against Portland State. Similar to the Hawks, the Eagles have been soaring since losing the second game of the season.
It'll be interesting to keep an eye on FCS results this weekend. Despite being ranked ninth in the FCS, only the top eight receive a first round bye in the playoffs. There is a chance the Hawks could sneak up a spot or two with ranked matchups like fifth ranked Sam Houston State taking on seventh ranked Central Arkansas on the ledger for FCS play. All eyes will be on the TV Sunday morning when the FCS bracket is announced on ESPNU.
Regardless of placement, coach Schweigert came into this program looking to add yet another conference banner into the rafters. It only took him three years to turn a school who was fairly new to FCS football into a conference title champion.
UND players, coaches and fans will hold their breath until Sunday morning to know what seed UND is given and start planning for a chance for the most elusive of trophies. The FCS championship.
Jack Harvey is a staff writer for Dakota Student. He can be reached at [email protected]