Your moment of Zen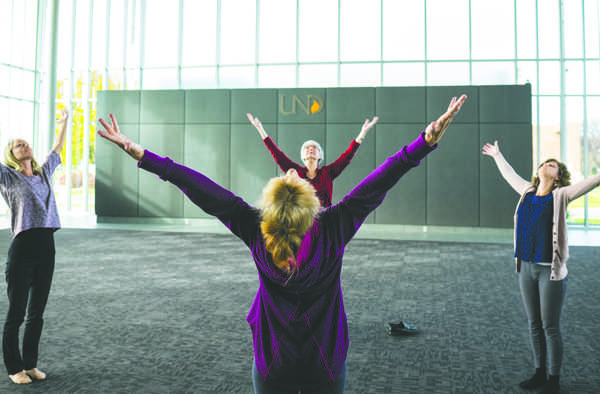 In the wake of another round of budget cuts, UND still finds a way to relax.
Twice a week for ten minutes, various campus buildings receive a visit from the Zen master, Kay Williams.
Williams retired five years ago after serving 31 years as a medical tech. Now, she teaches yoga classes, and the popular "Zen in 10" classes.
She visits about five different buildings twice a week, and gives anyone who joins 10 minutes to stretch.
Before the class gets under way, the participants talk amongst themselves and catch up on the latest news in their lives. The friendly atmosphere is contributed to the fact that the classes are made up of friends. Friends who work together and just need a quick break from work.
For Williams, she sees her job as simple but very rewarding.
"I just play crazy music and we move like nobody is looking and we have fun and laugh," Williams said. "The university people who work here, it's just a stress reliever for them, and I'm happy to help them."
"I sit at a desk all day staring at a computer, so it really helps loosen up all the muscles and kind of relaxes you," said Dawn Lommen, a regular for the Twamley Hall sessions. "You feel refreshed afterwards and ready to tackle the day."
The difficulty level of the class is minuscule with most of the moves being stretches. One participant walked in admitting she had torn her meniscus recently, but she was still capable of partaking. There is an element of balance that can be tested, though. The purpose of the class is not so much about the physicality, but more about relaxation.
"[It helps] not only mentally [or] physically, [but also] work-related," Lommen said. "It's much easier to concentrate when you're not all tightened up and stiff."
This class is more used as a mission to help those at the university. This is why the class moves around from building to building throughout the morning.
"When it's only a ten minute break, you can kinda sneak away from work," Williams said. "And if I come to them, then that's all their time invested. So they're not missing a whole bunch, but if they had to walk, it may take 10 more minutes and so maybe they wouldn't be able to get away from work."
Williams displays the desire to help her classmates by allowing them to call the shots from time to time.
"Sometimes I will offer 'do you wanna just sit and have a little meditation?' And they'll say 'no, we want the music loud,'" Williams said.
"Zen in 10" takes place between 9 a.m. and noon on Tuesdays and Thursdays. The times and locations for each session can be found in the event calendar on the UND website.
Sign up is requested for the classes. Classes take place in 6-8 week rotation, but the current rotation ends this week. The new rotation will begin soon.
"Sometimes being happy is a way of being zen," Williams said. "Sometimes you can't erase all the negatives just by sitting still. Sometimes moving gets rid of the bad vibes that might be around."
Jacob Notermann is a staff writer for The Dakota Student. He can be reached at [email protected]