Hawks soar home for homecoming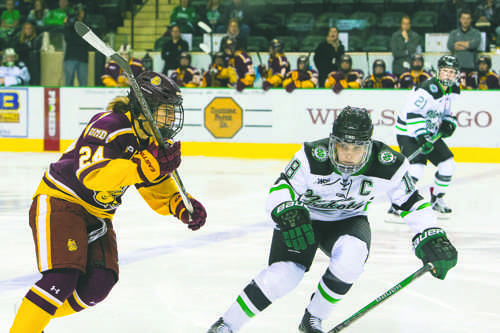 UND welcomes MSU to the Ralph for home opener this weekend
The Fighting Hawks are returning to the Ralph Engelstad Arena for their home opener this weekend against the Minnesota State Mavericks.
This will be the second conference series the women's hockey team face this season after last weekend's split against the St. Cloud State Huskies.
After facing the Huskies, UND fell to the 10th spot in the USA Today/USA Hockey Magazine Women's College Hockey Poll.
They earned 26 points for the spot, but fell from No. 6 while WCHA opponents Minnesota Duluth and Bemidji State both moved up to fourth and eighth place, respectively.
UND started senior goaltender Lexie Shaw for game one. Shaw stopped 25 shots and snagged her second career shutout, first of the season. Senior captain Amy Menke was credited for the only goal of the game, leading the Hawks to claim their first conference win of the season.
For game two, redshirt freshman Kristen Campbell started in-net, marking her first collegiate appearance.
The Huskies took an early lead beating Campbell on a pass from behind the net, but UND responded with two goals before the end of the first. SCSU would unfortunately go on to score two unanswered goals through the second and third period allowing the Huskies to take game two 3-2.
"We need to continue to play with good energy, we need to focus on winning our battles and putting ourselves in good spots," head coach Brian Idalski said. "I'd like to see us win when we have some more opportunities to attack the middle, I think we need to do a little better job with that. Overall I thought it was a pretty solid effort, I thought we did a great job."
So far this season, seven of the team's 19 points have been credited to underclassmen and two freshmen have chalked up their first collegiate goals, Annelise Rice and Ryleigh Houston.
Houston has made her presence known to her opponents, and her efforts did not go unnoticed. Houston claimed UND's first weekly honor of the season, being named the WCHA's Rookie of the Week after the series against Mercyhurst. Her first  goal also doubled as the game winner in the first of the season against Mercyhurst.
As they head into a new battle against the Mavericks this weekend, the Hawks look to take their first series sweep on home ice. Finding back-to-back wins will require effort from every line, and thankfully for the Hawks that's just what they've been doing. UND has tallied seven goals this season all from different players, with four of the goals coming from defensemen.
Looking back at the last 10 games the Hawks faced the Mavericks, the Hawks have taken seven wins and one shoot out victory, while only giving up two games to the Mavericks. The Hawks have outscored the Mavericks 32-16 in those ten games.
Menke has been a key contributor against Minnesota State; she has tallied three goals and eight assists in 12 games against the Mavericks.
Sophomore forward Rebekah Kolstad has an extra stake in this weekend series as a Mankato native.
"There is always a thrill and tons of excitement when it comes to the home opener no matter who the team is," Kolstad said. "With it being Mankato that just adds to the excitement for me."
Kolstad, in her second season as a Hawk, is looking for her first collegiate goal and hopes to see that this weekend.
"There will be more familiar faces, and I get to play against my old teammate and best friend Savannah Quandt," Kolstad said.
Quandt is in her junior season as a Maverick and has already grabbed her first goal of the season in non-conference play against RIT.
The Hawks open in the Ralph this weekend for homecoming, Oct. 14-15, to host Minnesota State for the first home games of the season. Friday's puck drop is scheduled for 7:07 p.m. and Saturday's is scheduled for a 2:07 p.m.
Allyson Bento is the sports editor for The Dakota Student. She can be reached at [email protected]