Valley Corn Maize, a hidden gem just east of Forks!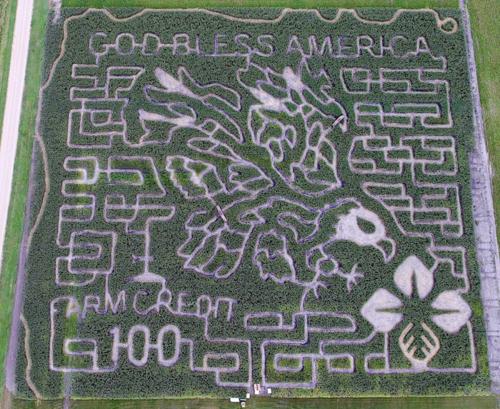 As the temperature continues dropping, and the orange leaves scatter the ground, I thought it was about time I did something to get myself into the fall spirit. Just one mile outside of East Grand Forks, there is a place called The Valley Corn Maize.
On Saturday, I grabbed a couple friends, and we braved the cold to see if this corn maze was everything we hoped it would be.
The attraction was relatively easy to find because it was marked with big flags along Highway 2. The second we stepped out of our car, we were greeted by the brisk air and a very excited lady wearing a hat shaped like a corncob and a nametag that said "Kernel Precious."
She waved us to the entrance, and after paying only $7.50 per person, we were encouraged to go through the eight-acre maze, get food and drinks from the concession stand, take photos in the multiple photo op spots, and play the available games on the outside of the maze.
Kernel Precious was extremely enthusiastic about us being there. She explained the rules, gave us some fun facts and even complimented my outfit.
Everyone who worked there was very energetic and seemed to be having fun. There was a radio blaring all kinds of music that would be interrupted by fabricated news stories about corn related things.
We looked around for a while, and decided to start the maze. There were two entrances for the corn maze. One had an estimated solve time of 15 minutes, and the other was to take about 45 minutes. We chose the longer route. At the beginning of the maze, we were given "passports" that asked trivia questions about sports, movies, entertainment and corn.
If you choose to play with the passport, throughout the maze, there are passport checkpoints. You look at the corresponding question, and the correct answer will tell you to either turn left or right for a small hint.
We ended up playing with the passports, which turned out to be very helpful.
The first thing I noticed when we stepped in, was how muddy it was in the field. We didn't just walk through that corn maze, we trudged. I was with three other people, and right away we came to disagreements on which path was the correct way to turn. Regardless of the disagreements, we decided that sticking together rather than splitting up would be a wiser strategy.
Within it, there were two large wooden bridges that gave us a higher view which made it easier to navigate. These not only made for helpful hints, but perfect photo spots.
After wandering around for quite some time, we eventually got so cold, that we started speeding our way through it without even contemplating which way would be correct.
Miraculously, our theory driven by the temperature seemed to work, and we got out of the maze in just under 40 minutes.
Right as we stepped out of the exit, Kernel Precious was there to cheer, holler and high-five us all for our victory.
We then scraped the mud off of our shoes and made our way over to the games. One of these games was called the Rat Race, where you had to get inside a giant pipe and roll yourself to the finish line, similar to a hamster wheel. There was also croquet, tetherball, a giant spider web net, and many other fun activities for kids, adults and families.
At first glance, it may seem as if this would be an attraction directed at kids, but as college students, we all had a ton of fun wandering through the maze and trying to find our way out. I would definitely go back again, but next time, I'll make sure to bundle up a little more.
If you are interested in visiting Valley Corn Maize, there are some fun events coming up in the next couple of weekends.
On Oct. 16, there will be "Canines in the Corn," where they are allowing anyone to bring their dogs into the corn maze with them.
For the braver people, on Oct. 23 from 7 p.m to 9 p.m., they are hosting "Flashlight Dash," and you can go through the giant maze in the dark. They will also have pumpkins for sale starting on Oct. 15.
To find more information, visit their website at http://www.valleycornmaize.com.
Emily Gibbens is a staff writer for The Dakota Student. She can be reached at [email protected]