Bird watching at the Ralph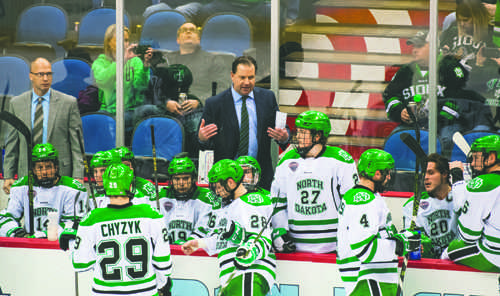 Fighting Hawks welcome Golden Griffins for 15th Anniversary season opener 
The banner has been hung, the championship won and the celebration had. UND is closing one chapter and skating into a new one this season, one that hopefully boasts the same finish.
After a slow exhibition performance, the Fighting Hawks are still confident for their new season, fresh faces and seasoned veterans.      UND opens their 2016-2017 season firmly in the first place spot in the USA Today/USA Hockey Magazine Men's College Hockey Poll with 28 first place votes, while the Golden Griffins hold a tie for sixth place in their Atlantic Hockey  conference standings.
Celebrating a staple in UND hockey, this weekend marks the 15th Anniversary of the Ralph Engelstad Arena. The Arena hosted its very first game October 5, 2001 against the University of Minnesota. UND fell to Minnesota 7-5 back in 2001 but this weekend they look to see a different fate.
UND will face Canisius in their home opener this weekend for the first time in 12 years. The last time these two teams met, UND swept the series against the Griffins 5-1 and 4-1 finals. UND has gone 41-22-7 overall in season openers.
The Hawks have historically out-played the Griffins allowing the them only four goals in comparison to UND's 31.
The Golden Griffins have a fairly veteran team, as they welcome back 20 letterwinners including sophomore goaltender Simon Hofley.
Hofley holds decent statistics but not quite equal to UND's Cam Johnson.
Hofley started his freshman season with 27 appearances and holds a .920 save percentage after making 801 saves and allowing 70 goals against with a career record showing 8-12-5.
Johnson's record in 36 appearances is an impressive .935,  allowing 53 goals and making 759 saves for a career record 24-4-2.
Johnson's impressive performance last season and in this year's exhibition game has allowed him the privilege of leading UND into this season as starter between the post.
Three goalies made an appearance in exhibition play against Manitoba last weekend, but head coach Brad Berry made his intentions clear about where Johnson belongs.
"I thought Cam was very solid. He had to make some stops at key times in there he's a battler and that's what you see," Berry said. "He's left off where he was last year and again we expect a lot of things from him and carry the bulk of the load for us this year."
Matej Tomek and Matt Hrynkiw both made their appearances throughout the second and third period and proved their skills.
"Matej got in there," Berry said. "He has parts of two periods, I thought he was quite good and I'm sure he wanted that goal back in that two on one. I think that comes from a lack of playing time and as he moves further into his career I hope he gets more game action where he can prove himself."
Hrynkiw closed out the game with almost eight minutes of play and kept Manitoba off the board.
"Hrynkiw went in there and he did a good job," Berry said.  "Very limited as far as the eight minutes he was in there but he made some good stops and he looked comfortable."
It was clear Berry was impressed with the skills displayed by his goaltenders, but the journey for Johnson isn't quite over yet.
"I think it was good to get all three in there and get some reps but again we're going to expect a lot from Cam this year." Berry said.  "This time last year at the press conference we were asked what Cam has or what our goaltending group is and we always go back to the body of work. We didn't have a lot of body of work on Cam or the rest of the guys and now we know what Cam can do and there's a high bar there, and he's going to have to sustain that."
Berry also has high expectations for the rest of the team, and the large number of underclassman have already been big contributors during exhibition play.
Since the "CBS" line dissolved last season, Berry has paired sophomore Shane Gersich and freshman Tyson Jost with Brock Boeser in the top line.
"It's easy to play with those guys, they're both really good players" forward Shane Gersich said. "We got to keep building on that."
Gersich accounted for one goal and two assists in the match against Manitoba, but freshman Zach Yon opened up the scoring.
With confidence in their underclassmen, the Hawks have to make the ongoing adjustments as they come to face Canisius and look to the guidance of the veterans.
"There's some good veterans here that can show us the ropes," Yon said. "We need to be harder on pucks, make better plays. I don't think we should cough up the pucks as much. Overall I thought we were solid and there's obvious things we could work on and I think we will be good."
The Fighting Hawks open their season with this non-conference match up against the Golden Griffins Oct 7-8. Friday's game is set to begin at 7:37 p.m.
Allyson Bento is the sports editor for The Dakota Student. She can be reached at [email protected]