Lisa builds on the Marvin legacy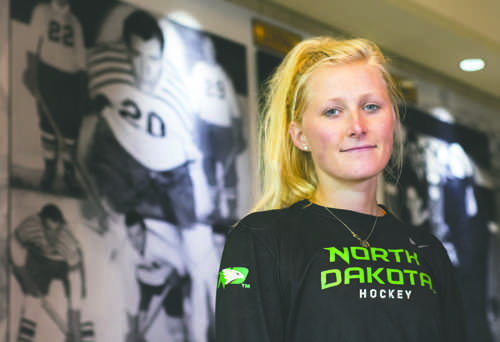 Since the beginning of hockey at UND, the Marvin name has been synonomous with hockey.
From Cal Marvin, the co-founder of the men's hockey team to Layla Marvin graduating from the UND Women's hockey program. Now, the Marvin legacy rests in the promising hands of the next Marvin, Lisa.
Making her long awaited return to the program, Lisa will begin her junior hockey season this week for the first time in two years since her nearly fatal accident.
In 2014, during her true sophomore season Marvin was filling her truck up with gas on the side of the road when an oncoming car hit her truck and in turn sent Marvin over her hood and onto the pavement. This is the story that Marvin has been living for the last two years, and this season is the beginning of her new one.
Marvin can still recall her first big moment as a UND athlete, being granted the privilege to gear up and play for a school that has so much history for her and to be beside her sister while doing it.
"Definitely the first time you put on the jersey," Marvin said.  "I remember we had an exhibition game, it was my first real game and I couldn't even imagine what a real game would feel like because that exhibition game felt real."
Playing all 36 games in her freshman season and five in her sophomore year before injury, Marvin tallied two goals and five assists in her collegiate career.
"It was a fun little start to a college career," Marvin said.
This season, Marvin is a part of the class of eight seniors graduating from the program although she was a redshirt in her true junior year allowing her an additional year with the Fighting Hawks.
"I can still get a redshirt, but I've still been treating it like my senior year because of all the girls I came in with," Marvin said.  "And if my body doesn't hold up."
Marvin has been clear to play since the end of last season, pending she pass the physical this season, and the reality is that there will still be good days and bad days.
"I have a new appreciation, I kind of enjoy all the little things I didn't get to do," Marvin said. "I just want to really enjoy it. I don't want it to be a job, I just really want to have fun with the girls, I'm already a senior so time just flies."
Marvin comes into this season not only with a new appreciation but a new look at the game. Spending time in the stands allowed for Marvin to see things in slower motion and allowed her to see what her team can do better to achieve success against they opponents.
"You can see it's 'Wow, this is what we look like', because normally you're down there playing on the ice," Marvin said. "It's a different view for sure."
Marvin used this information to benefit the team, making her way to the locker room between periods to address certain issues that weren't visible to the players on the ice.
Now that she's returned to ice level, coaches have been mixing up the lines to include the group of new freshman and Marvin has taken a spot at center where she is most comfortable.
"She'll travel, she's going to play," UND coach Brian Idalski said. "She looks good in practice. Her hockey IQ has always been very good. She's probably skating a little bit better than before, too."
Marvin and the nine upperclassmen have a big task this season in trying to adjust and assist the 10 freshman and working on maturing the team.
As the seniors help the freshman adapt, the whole team will need to work to contribute more.
"Scoring has been an issue for the last few years," Marvin said. "So if we could get the puck in the net that would be great. "
The team has been a big support group for Marvin since her injury, but the support doesn't stop there. Fans have taken to twitter, Facebook, and shared stories of Marvin's road to recovery along the way.
"It's unreal, when I look at twitter and see that a tweet got 70-something favorites, I think it's insane." Marvin said. "I love all the support, I mean I'd rather have the attention for scoring a goal but I love the support and everyone behind it."
Marvin's return begins with The Fighting Hawks flying to Erie, Penn. to face Mercyhurst for the season opener Sept 30-Oct. 1. The puck drop for the opening game is set for 6 p.m.
Allyson Bento is the sports editor for The Dakota Student. She can be reached at [email protected]