"What do you want to be when you grow up?"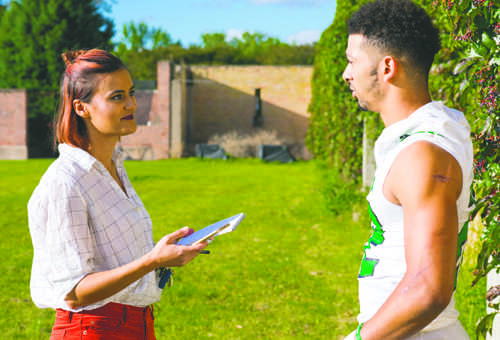 This isn't an extremist story. It's not about burning men at the stake or starting a rebellion. This is simply the journey I'm on to being the best sports journalist I can be.
I grew up wanting to play sports and be good at them, and for a while, I figure skated. As doomed as I was born with two left feet and bruise like a peach, I found my seat on the rafters while watching my brother and father participate.
It was a pretty solid trade now that I think about it, I didn't have to physically exert myself or get yelled at for not playing my best.
I had the best seat in the house with the baseball moms or hockey wives, and that is where I learned to love the game.
It's these unbelievable women who taught me when to yell at the umpires, when to taunt the players in the sin bin and when to hold your breath with bases loaded at the bottom of the 9th inning as the North Kildonan Cobras would go on to win the Championship game.
It's those women who taught me the rules, the plays, the scoring, the chants, the game.
My brother played baseball for most of his teenage years, and that's where I spent my summers. I was usually in the car driving to tournaments and in a lawn chair with a bag of dill pickle Spitz yelling at the umpire to open his eyes.
During the winter months, I found my perch sitting with my mom and the rest of her friends as my father and the other husbands played an old timers game of hockey.
It was the old Billy Mosienko Arena where I learned plenty of colorful words, that fighting is allowed in sports and the reason my parents put me in figure skating instead of hockey.
Now these two sports are quite the opposite, but the perfect mix between slow and steady to fast and crazy was just what I needed to know that I wanted something to do with it.
This is important it's where I learned to love sports, and is why when I say that for the rest of my life if I could tell people about sports then I can say I've fulfilled my dreams.
Fast forward for time sake, let us just chalk up the people who told me I could not be a sports journalist to the fact that I was a nine-year-old little girl and boys still thought we had cooties.
So now that at 23 years old, why am I still dealing with the same mentality from adults?
Like I said, this isn't a rebellion against men, because it's not just men, so let's get that out of the way.
Women who look at me often have thoughts like 'she's chasing the money' or 'she just wants inside the locker room', which are tough statements to hear especially from other women.
If it wasn't about me getting in the locker rooms or looking for a husband, the immediate assumption turned to what my own sexual orientation was.
Apparently, that is easier for some people to digest that rather than accept that I am heterosexual woman who enjoys sports and loves talking about it.
Men were quick to judge, but there are two types of negative reactions that I get when I tell men that I'm going to be a sports journalist. Reaction one is the most popular, the doubt that a woman could talk about sports and be into sports without any ulterior motives.
There are a million examples of this in my own personal experience, but there is one that specifically hits me right in the gut. I was in my hometown of Winnipeg shortly after my 18th birthday and I was meeting up with some friends.
Conversation was flowing when the topic of what we were all going to do now that we were done high school.
The question came around to me and I announced "I'm going to school for sports journalism."  At the time, two of the guys I considered to be friends looked at each other and looked back at me without skipping a beat they took turns asking me simple questions like "how many innings are there in baseball?" or "how many periods in a hockey game?". 
In that moment, I was confident in my answers, but the doubt that they had about my choices was a smack in the face.  I stood there and mumbled under my breath the answers until one of them said, "maybe you should try being a teacher."  In that moment, I had never felt smaller.
Reaction two is not as common, but still equally demeaning. It's the reaction that is similar to when women think I'm doing this just for the men, but the men creepily enjoy that idea.
I could not give you a set example of this reaction. It's always a passing response in conversation, comments like "that's hot" or "I played in the juniors, you can interview me later tonight."
I see the same theme across the board with this reaction, its unnecessary sexual connotation just because I'm a female.
It's these reactions that make it difficult for me to do my job. It breeds fear and doubt that I never had before. My biggest fear is being asked a question that I will not know the answer to.
While I understand and I'm open to the fact that I don't know everything about sports,  I fear that instead of just shaking it off and saying that I don't have a full understanding about every single detail about every sport, people are going to look at me and say 'oh well she's a girl, you can't expect her to know.'
That may sound unrealistic to some, and this is the first time I have publicly voiced that fear, but it comes from a place of experience. Experiences where people slowly take their shot at my choices in life and eventually they worked to develop my own personal nightmare in something I only ever saw as a dream.
This is not to say I have only ever worked against the grain, I have an amazing support system of friends, family and co-workers. These people do not see me as a female sports journalism student, but instead a sports journalism student with the same potential as everyone else I may be up against.
I believe I have a real shot at doing well, and it's not just the sports industry that women get judged and ridiculed for being a part of, so I hope that this makes it a little easier for anyone who may be battling that same current.
Allyson bento is the sport editor for The Dakota Student. She can be reached at [email protected]