UND men's football ready to kick off the season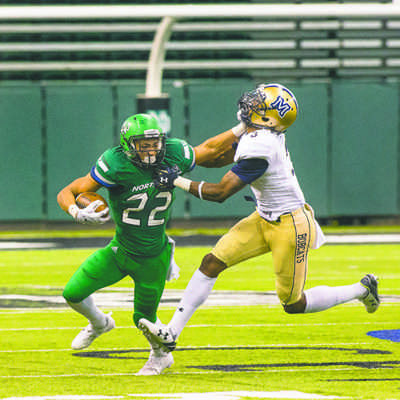 As students return to campus and summer begins to wind down, another season starts; football season. The Fighting Hawks have been hard at work this summer since camped opened Aug. 5, but there is still plenty of work to be done.
Along with the returning players an additional 23 freshman have been added to the roster, "We've had a good fall camp. We are better now than when we started, which is always the goal," Head Coach Bubba Schweigert said.  "From the coaching side, we always want to continue to make progress, but we were able to get some young guys evaluated that we feel can help us during the season."
Looking back on last season, the Hawks nabbed five out of their eight conference games putting them in the middle of the pack. As the team powered through a tough October as they face three consecutive losses, they would come back and set a record with their first three game win streak under Bubba Schweigert. The final push left the team with a 7-4 overall record, a two game improvement from the previous season.  
The season boasted conference leading defence for the second consecutive season and an improved offense, with the spotlight on their freshman running back, John Santiago, who posted record-breaking numbers.
Santiago's performance led him to be named the Co-Big Sky Freshman of the Year along with receiving All-America honors from the Associated Press and STATS, Inc.  The accolades continue as Santiago was also selected for All-Big Sky first team, joined on that team by senior linebacker Will Ratelle and offensive lineman Sean Meehan.
Along with Santiago returning to his starting role, 18 others will claim their starting positions for another year including junior quarterback, Keaton Studsrud.
After last season's performance the preseason polls revealed, the Fighting hawks hold the fourth place spot in the Big Sky preseason Media poll, and only fall a single slot into fifth for the Big Ski preseason Coaches' poll.
Now with the new additions and skilled veterans Schweigert and the coaching staff are looking ahead into a hopeful season beginning with a season opener against Stony Brook, "We have some veterans that made some progress as well and that is what we're looking for," Schweigert said. "If you're on a work team, you've got to do your best and give the best look that you can because we have a lot of work to do to get ready for Stony Brook."
In the last meeting between these two teams in 2014, UND came out victorious in the final 13-3 and they currently hold a 2-0 record overall against the Seawolves. Stony Brook ended their season on the same foot as UND, with a three game win streak, although the Seawolves overall record for 2015 broke even with five games in each column.
The Fighting Hawks will begin the season on the road on Sept. 1 at Stony Brook at 6 P.M CT. The home opener for UND will follow on Sept. 17th in the 51st annual Potato Bowl against South Dakota.
Allyson Bento is the sports editor for the Dakota Student. She can be reached at [email protected]