UND athletes headed to the big leagues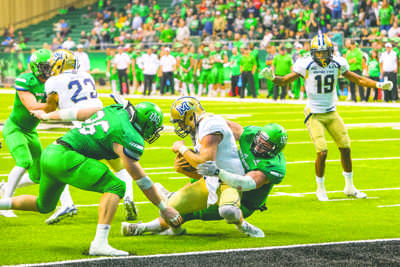 Will Ratelle will continue his sports careers in the NFL. Photo by Nick Nelson/The Dakota Student. 
With the school year winding down, UND athletes are starting to leave their respective programs to fulfill their dreams of playing professional sports.
The UND men's hockey team is no stranger to seeing juniors forgo their senior seasons and leave the school for the NHL, and this year is no exception. As of this publication, four juniors will head to the pros.
It was known defensemen Keaton Thompson and Troy Stecher will be leaving UND for the NHL next season. Thompson will be playing for the Anaheim Ducks while Stecher will be lacing up for the Vancouver Canucks.
Recently, two other Fighting Hawks players have chosen to follow suit.
Paul LaDue will follow the lead of his fellow defensemen and sign a professional contract for the Los Angeles Kings.
Forward Luke Johnson will also skip his senior year and has signed with the Chicago Blackhawks after being an integral part of the offense during their championship run.
Johnson isn't the only offensive weapon leaving the team for the big leagues. While it is not known where he will be playing next season, senior Drake Caggiula is one of the NHL's most sought after free agents and will have multiple teams to choose from for next season.
The UND men's hockey team isn't the only program that is sending players to the next level.
UND linebacker Will Ratelle may not have gotten the call on draft night, but the senior will have a shot at the NFL next year. The senior signed to the Atlanta Falcons as a free agent and will have the opportunity to earn a spot on the team's roster.
"I am excited to be a Falcon," Ratelle said. "There were a lot of variables that went into this decision, but in the end, the Falcons were the team I felt gave me the best chance to succeed at the professional level."
Ratelle is the second UND player to sign to a professional team since the Hawks moved to Division I. The first was wide receiver Greg Hardin who participated in the Denver Broncos' training camp.
Nothing is guaranteed in professional sports but these UND atheles have achieved a goal that few players ever have.
Alex Stadnik is the sports editor for The Dakota Student. He can be reached at [email protected]