Mixed bag for UND track at Hokanson meet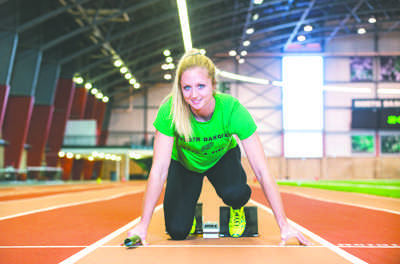 Paige Slemmons partnered with Tianna McKinney, Ashley Rone and Stephanie Clark to take home top honors in the 4×400 meter relay this past weekend at the Lyle Hokanson Classic. Photo by Nick Nelson/The Dakota Student. 
The University of North Dakota men and women's track and field squads headed out on the road last weekend to Fargo, N.D. for the Lyle Hokanson Classic.
Each team was able to claim at least one first place title, beginning with UND women's 4×400 meter relay team that included Tianna McKinney, Paige Slemmons, Ashley Rone and Stephanie Clark. They clocked in at 3 minutes and 52.08 seconds.
Senior Slemmons, who returned to her hometown of Fargo for the meet, participated in the 100-meter dash, and she finished third with a time of 12.48 seconds.
The men's team was able to come together and collect three titles. Senior Nathan Peterson claimed first in the 1,500-meter run and posted a new personal record time of 3 minutes and 55.45 seconds.
Other first place titles included senior Jimmy Evers in the 110-meter hurdles with his 14.52-second time, and junior Jared Michel, who took the 400-meter hurdles with a time of 54.73 seconds.
Evers' finish earned him a spot in the Big Sky Conference standings. He now holds the fourth place slot.
Both teams had some near wins but could not close the deal. In the 200-meter dash, Natasha Brown earned second place. Brown ran for a time of 24.33 seconds, solidifying her place in the fourth spot of the Big Sky Conference.
Other second place finishes included pole vaulter Zac Ray, a freshman, clearing his highest at 4.55 meters. In the long jump, freshman Monica Kuehl had a jump of 5.53 meters. In the discus, Alyssa Lueck earned second place with a throw of 46.60 meters, while Janessa Meuleners finished her 1,500-meter run at 4:59.53.
While finishing on top in the classic was the goal, some athletes were still able to maintain their rankings in the Big Sky Conference as well as set some personal best records.
Molly Griep took a fifth place finish in the hammer throw event, with a throw of 179-03.18 feet (54.64 meters). It may not a first place finish, but she did improve her season-best and still holds the eighth spot in the Big Sky Conference standings.
Also holding her spot in the Big Sky Conference standings was Katelyn Weber, who placed ninth in the shot put with a throw of 45-07.75 feet (13.91 meters), which tied her for the fifth spot in the Big Sky Conference standings. Her throw also improved her season-best record.
Setting new records on the men's side, junior Ian Collins placed fifth in the shot put with a throw of 55-01.50 feet (16.80 meters), setting a new personal record.
As the meet wrapped up on Saturday, the Fighting Hawks left with 23 top ten finishes for the women and 14 for the men.
The Fighting Hawks will head back on the road to compete again Tuesday, April 26, at the Cobber Twilight in Moorhead, Minn.
Allyson Bento is a sports writer for The Dakota Student. She can be reached at [email protected]