Hawks able to beat NDSU on the road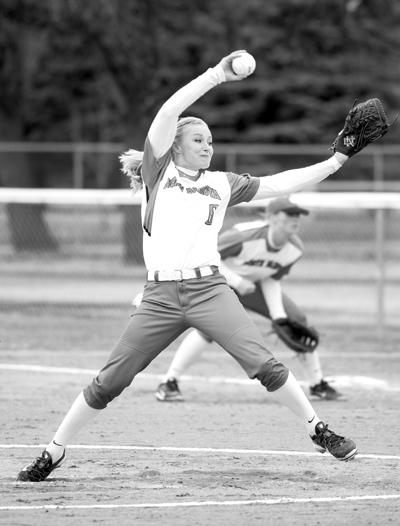 Kaylin VanDomelen was key in UND's win against NDSU. Photo by Nick Nelson/The Dakota Student.
Wednesday afternoon, the Fighting Hawks headed down to Fargo in a non-conference matchup against rival NDSU Bison.
In Fargo, UND softball kicked off the afternoon by snagging a win and stunning the Bison in a 4-1 finish. Kaylin VanDomelen continued to excel as she pitched an entire game. The redshirt sophomore faced 28 Bison batters while throwing 71 strikes, five strikeouts and only walked two batters.
VanDomelen played as well off the mound as she did on it. The Banks, Ore., native went two for four and drove in one of UND's four runs.
The Fighting Hawks' best pitcher leads the Big Sky Conference with 107 strikeouts this season and ranks third in the conference with a 2.85 ERA.
VanDomelen wasn't the only person producing on offense. First baseman Emily Bell went two for three, including a double and a homerun. The senior also collected two RBIs and one run.
UND took an immediate lead at the top of the first inning with two runs from Nicole Babrowski and VanDomelen, with the RBIs from Keegan and Bell respectively.
Quickly adding to its 2-0 lead, the top of the second saw the bases loaded for UND when NDSU starting pitcher Jacqueline Sertic hit batter Taylor Hansen with a pitch to advance the runners and bring another run in for UND. The Bison were able to get out of the inning without any additional casualties.
Sertic would be pulled as NDSU sent Kaitlyn Leddy to the mound in hopes of getting back in the game.
UND would load the bases but could not capitalize as both sides remained quiet through the fifth inning.
Leddy felt the wrath of Bell as she smashed a homerun to left field at the top of the fifth, increasing the lead to 4-0 for UND.
VanDomelen held the Bison in a near shut out, but NDSU showed that it was not going down without a fight. Left fielder Maritza Lopez-Portillo smashed a homerun out to right center in the bottom of the seventh inning to rob VanDomelen of her fifth shutout for a final of 4-1.
VanDomelen claimed her 10th win of the season and the Fighting Hawks moved their record up to 13-25 overall.
UND will come back home this weekend, as they play Northern Colorado. The first game of the doubleheader begins at 2 p.m. with the next game starting at 4 p.m.
Allyson Bento is a sports writer for The Dakota Student. She can be reached at [email protected]