Menke and UND look for revenge against the Gophers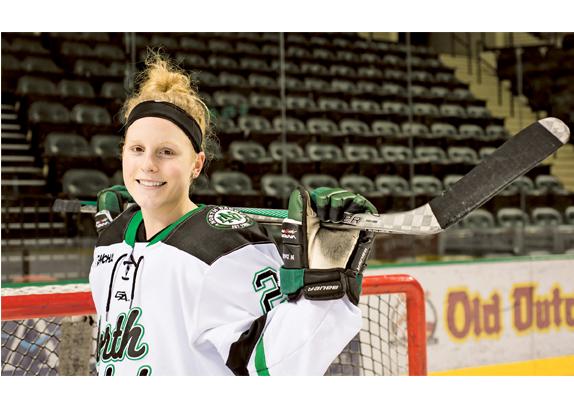 UND forward Amy Menke poses for a photo after practice this week in the Ralph Engelstad Arena before the Hawks take on the Gophers. Photo by Nick Nelson/The Dakota Student
The stakes grow higher as the UND women's hockey team heads into this weekend's WCHA Final Face-Off and faces the University of Minnesota.
UND has a noticeably effective game plan, proven after defeating the St. Cloud State Huskies last weekend.
UND forward Amy Menke provided insight about the series ahead and how the Fighting Hawks look to overcome the next obstacle in a run toward the championship.
"When our team is playing well on offense, obviously, we do better and we get more chances," Menke said.  "Whether that's me or someone else creating that offense, it's just good for the team for the chemistry and buzz of the game."
Playoffs have proven to be a completely different environment for the Hawks. This was a team that during the regular season seemed to go through ups and downs while trying to find a way to be consistent. In its first round series against St. Cloud, the Hawks rallied off back-to-back 6-1 victories against the Huskies and look to continue that trend against the Gophers.
One of the main missteps a team can make when preparing for an elite opponent is attempting to change its style of play to match the other team. This can cause teams to deviate from who they are. Fans do not have to worry about that when it comes to this Fighting Hawks team.
"I don't think we're going to prepare any differently," Menke said.  "We're really trying to save our legs because there's going to be two hard games hopefully, coming up this weekend. So just follow drills in practice and get everything down."
Keeping that energy high from the moment the puck drops to the final whistle is important. Running out of steam is not an option when matching up against strong opponents.
"I think we're all fired up about the weekend," Menke said. "We know it is do or die and if we don't win, we're done, so we're putting everything on the line for the game right off the bat."
Menke keeps the atmosphere light in the locker room, referring to the mood the team carries as their "passion buckets."
"Our passion buckets are still overflowing," she said. "We just hope that we can keep the energy up and keep the offense going as well as having a strong defense and goaltending."
Undoubtedly, saying goodbye to the senior linemates is a difficult task, however it is not something the starting forward is looking at right now.
"It's hard to say where we'll be next year," Menke said. "As of now, we're just focusing on finishing this year and not focusing too much on next year."
The chemistry Menke has with her current teammates, Meghan Dufault and Becca Kohler, is something that is hard to replicate, but it's not impossible with all the potential the team holds.
Focusing on the present, the chemistry that Menke has built with fellow forwards Dufault and Kohler is tangible with how the line has played together. The trio has accounted for 106 points for UND this year and were key factors behind both blowout wins over St. Cloud.
"They are going to be two hard pairs of skates to fill," Menke said.  "They're fun to play with."
Menke and UND will put it all on the line in Minneapolis with the puck drop at 5:07 p.m. on Saturday night at Ridder Arena.
Allyson Bento is a sports writer for The Dakota Student. She can be reached at [email protected]