Women's hockey splits series with Ohio State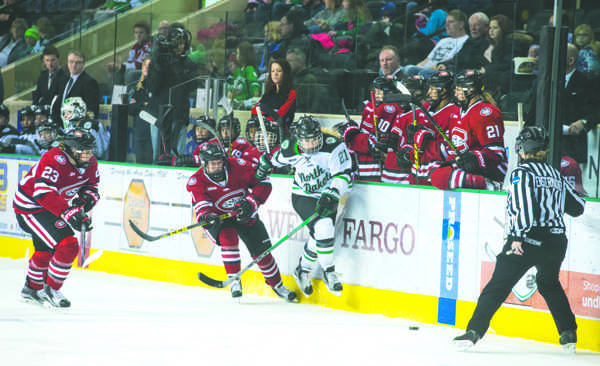 UND foward Amy Menke battles her way down the ice during a series against St. Cloud State earlier this season. Photo by Nick Nelson/The Dakota Student
After a bitter beginning to the last series of the regular season, the Fighting Hawks managed to claw back in game two and split the weekend series against Ohio State.
Game one of the series left the Hawks stunned at the final whistle, after the team outplayed the Buckeyes but still lost 3-1. 
UND's lone goal came in the final period when senior Meghan Dufault slipped a backhanded shot passed OSU's Alex LaMere to tally her eighth goal of the season. Unfortunately, Dufault's efforts could not start a rally, as Ohio State would solidify a win with an empty-net goal.
Game two would get off to a scary start for the Hawks. Within the opening minutes, OSU had a commanding lead, scoring back-to-back goals in the first period. UND's Amy Menke was able to cut that lead in half before the end of the first for a 2-1 score.
It was in the second period that the game picked up and so did the Hawk's offense. Working with a weekend full of power play opportunities, Hawks forward Becca Kohler scored on UND's 10th power play opportunity of the weekend to tie up the game at 2-2.
Later in the second, Dufault scored her ninth goal of the season on a breakaway to put the Hawks in front 3-2. Despite Ohio State's ensuing rush, UND's defense held strong and Dufault's goal would prove to be the game winner.
Top line forwards Menke, Kohler and Dufault managed to tally five points on the night with each player scoring a goal and Menke and Dufault taking assists. The game also marked UND goaltender Shelby Amsley-Benzie's 14th win of the season.
UND returns to the Ralph Engelstad Arena this weekend, facing St. Cloud State in the first round of WCHA playoff. Both games are slated to begin at 2:37 p.m., with a third game on Sunday if necessary.
Allyson Bento is a sports writer for The Dakota Student. She can be reached at [email protected]