Enjoying the ride one game at a time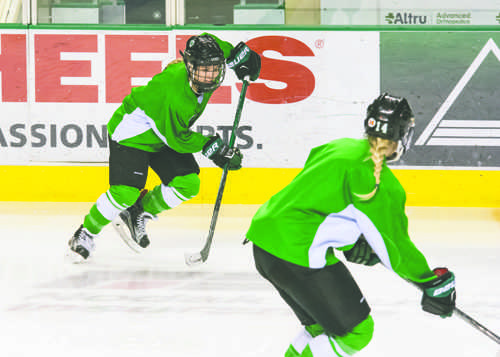 UND forward Meghan Dufault anticipates a pass from Marissa Salo in preperation for the Gophers. Photo by Nick Nelson/ The Dakota Student
With the regular season winding down and teams gearing up to compete at a postseason level, UND forward Meghan Dufault, who was the WCHA Offensive Player of the Week, was able to provide insight on seasons past and goals for the seasons to come after her reign as senior here at UND comes to an end.
So what makes a team a post-season contender? Consistency.
"We need to be more consistent," Dufault said. "We have proven that we can beat the best teams, but we have also showed we can play down to our opponents. We need to take every game seriously and play like we are playing against Wisconsin or Minnesota."
Without a doubt, the Fighting Hawks have an entire team that can contribute to any post-season success, with Dufault being the leader of the squad. Her consistent skill level and        contributions to the team this season have been crucial, and as of late she has shown that she is a force to be reckoned with. Still, by pushing the limits, Dufault looks to break the streak of landing in eighth place this year.
"All four years that I had been here, our team has seemed to finish in the same ranking year after year, so it is motivation to push that eighth place ranking and make the national tournament," Dufault said. "I am also motivated by my                              
teammates. We are at the rink everyday together and spend lots of time working together so it's them I try to do my best and help our team win for."
With a graduating class of eight seniors, the remaining players
in the Hawks locker room will have some hefty shoes to fill. While the experience of a four year athletic career cannot be recreated by simply talking about it, Dufault finds solace in the fact that she can pass on the wisdom of what those years taught her.
"I was told as a freshman that the four years fly by. I didn't believe it till now," Dufault said. "These past four years have gone by so fast and I have one tip for the freshmen. It's slow down and enjoy the people you are surrounded by. After your four years, it is likely for everyone to go their separate ways."
It's safe to say the experience of a college athlete is different than for most students. There are higher expectations, tighter schedules and a commitment to an entire team day-in and day-out, and all of this is just a test to further prepare these students for life after graduation.
Most athletes keep to their sport, but for Meghan Dufault the future looks even bigger after returning to her hometown of Winnipeg. Dufault looks to trade in those long nights of practicing hockey for practicing law with hopes of getting into the law school at the University of Manitoba this Fall.
As the final weeks of her senior year pass by, there are high hopes and tough preparation for the weeks to come for Dufault and the rest of the Fighting Hawks.
UND will face off against WCHA rival Minnesota. Friday's game will begin at 6:07 p.m., and Saturday's will start at 4:07 p.m., both in Minneapolis.
Allyson Bento is a sports writer for The Dakota Student. She can be reached at [email protected]