Erbert's and Gerbert's review: solid sandwich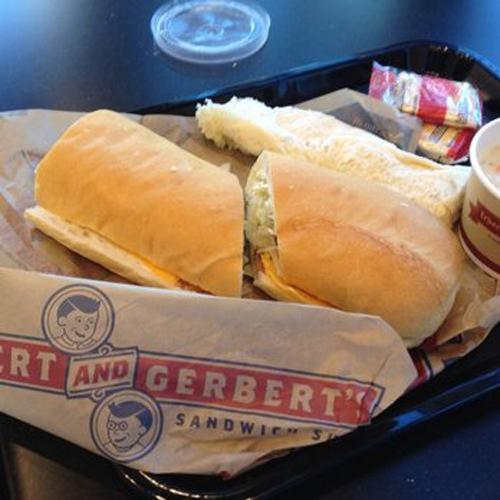 Advertisement
Hang on for a minute...we're trying to find some more stories you might like.
Erbert and Gerbert's is located at 3000 32nd Ave. S., Grand Forks, and makes a decent sandwich with a goofy name. Photo courtesy of Erbert and Gerbert's Google+ page. 
3 out of 5 stars
Erbert and Gerbert's has always been one of those things I have heard was great but never experienced, much like Game of Thrones or the ability to grow facial hair. After a week of putting off grocery shopping, I finally decided to put it off another day and give the restaurant a try.
After looking through their menu of sandwiches with names such as Erupter, Pudder and Girf, I ordered the Comet Candy. This sandwich came topped with roast beef, ham, provolone cheese, lettuce, tomato, mayonnaise and Dijon mustard for $6.29 plus tax.
All of Erbert and Gerbert's bread is hollowed out to make room for the toppings, with the remaining "guts" being served on top of the sandwich.
This is a nice change of pace from Subway, as its sandwiches are generally 90 percent bread to remind their customers that they're in fact eating a sandwich and not a tasteless lump of plywood.
That being said, I was a little surprised at the lack of substance in my sandwich. A few slim slices of roast beef, ham and provolone were drowned out by the copious amounts of lettuce.
While I was awkwardly trying to gauge the amount of roast beef in my meal, another customer went to the counter and asked for more lettuce on her sandwich. At this point she probably should have cut out the middleman and just ordered a salad, but the staff was very gracious and even offered her a new sandwich free of charge. That is fairly impressive service for such a small, superfluous complaint.
"
The only notable difference was the staff of Erbert and Gerbert's used the perfect amount of mayonnaise on the sandwich, which has got to be some lost art form that I will never master"
— Brendan McCabe
Over the course of the meal, only one thing crossed my mind: Meh. There was just nothing that set the Comet Candy apart from any of the offerings of other sandwich shops out there. The bread was just fine, the tomatoes were fine and the lettuce was copious— but also just fine.
The only notable difference was the staff of Erbert and Gerbert's used the perfect amount of mayonnaise on the sandwich, which has got to be some sort lost art form that I will never master. It was also a welcome change from Jimmy John's and its sheer abuse of mayo on most of its sandwiches.
For a sandwich that looks fairly large, it sure wasn't very filling. For full transparency, I stopped growing in the eighth grade and maxed at five and a half feet tall. That's not exactly what I'd call an intimidating stature, and I still could have gone for another sandwich. So I got another sandwich.
   For another $6.29 plus tax I purchased the Narmer, which is a turkey sandwich with avocado, provolone, tomatoes, mayonnaise and a small garden's worth of lettuce.
While the staff didn't judge my appetite for a second, a lady in the back corner of the restaurant stared me down with a look of both disgust and pity as I went back to my booth, second sandwich in hand. The Narmer was extremely similar to the Comet Candy in that it was completely average in every respect, no aspect being particularly good or bad.
I will go on record to say that I was extremely full after the second sandwich, but by the time I left I had spent almost $15 for lunch. Who am I, Bill Gates? Those are rich people figures, not poor restaurant reviewer numbers.
My experience with Erbert and Gerbert's was not a bad one. Its prices are comparable to, if not slightly more expensive than Jimmy John's for similar quality food.
Overall, this average restaurant earns itself an average 3 out of 5 stars. If you need a sandwich fast but feel you are too good for Subway (and believe me, you are), then Erbert and Gerbert's is not a bad choice.
Brendan McCabe is a copy editor for The Dakota Student. He can be reached at [email protected]