Women's hockey feeling the urgency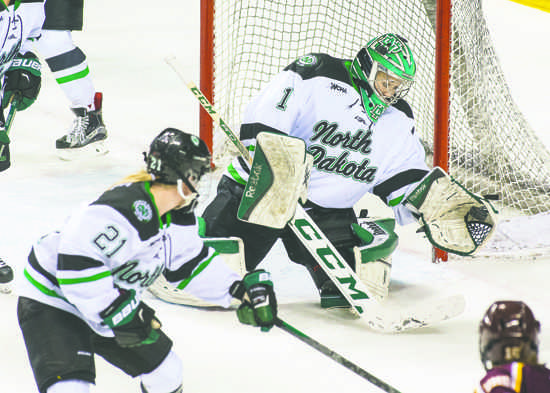 UND goalie Shelby Amsley-Benzie fighting off a puck against Minnesota Duluth. Photo by Nick Nelson/The Dakota Student
Returning home after a pair of tough losses, the Fighting Hawks are looking forward to their next series.
Despite losing to the best team in the conference, the University of Wisconsin, UND held tight to the No. 8 spot in the USCHO.com Division I Women's Poll.
Switching gears to the coming weekend, UND is set to battle it out with Minnesota State in yet another crucial conference series. Although the Mavericks are on the opposite end of the standings as the previous weekend opponents, the squad looks to treat this series with the same determination and strength as any other.
"We cannot play to their level," UND forward Shannon Kaiser said. "We have to go out as the enforcers and not let up until the clock strikes zero. It is crucial for us to continue to play 60 full minutes of solid hockey so that we continue to play that way from now forward through the rest of the season."
Minnesota State has yet to claim a conference series or even a single conference win this season.  Looking back at these two teams, the Mavericks have not been able to defeat the Hawks since February 2014. While the series might appear easy on paper, every game from here on out is important to UND.
"This is a huge series for us. We have to come out of the weekend with a sweep, no questions asked," Kaiser said. "Especially against a team that is at the bottom of the league, some improvements that we need to make for the upcoming series is to just simply put the puck in the net."
This series will also see the return of first line forward, Meghan Dufault, after a single game suspension kept her out of the lineup in the second game of the Wisconsin series. Dufault, Kohler and Amy Menke are currently leading the pack in the point's race. Menke takes top rank with 26 total points on the season and Kohler and Dufault sit neck and neck with 21 and 20 points respectively.
UND may have a dependable offense but without the immaculate defensive job that Shelby Amsley-Benzie has done this year, this team may not be where they are now. Amsley-Benzie has laced up for 20 starts, letting in 32 goals and posts a 1.59 goals against average with a .930 save percentage.
In comparison, Amsley-Benzie trumps Mavericks starting goalie Brianna Quade. Quade has let through over double the amount of goals at 83, holding 3.29 goals against average with a .896 save percentage.
The Fighting Hawks will return home this weekend for the second to last home series to host the Minnesota State Mavericks at Ralph Engelstad Arena.
Friday's game will begin at 7:07 p.m., with Saturday's puck drop scheduled for 4:07 p.m.
Allyson Bento is a sports writer for The Dakota Student. She can be reached at [email protected]