Hidden gem: Art museum engages campus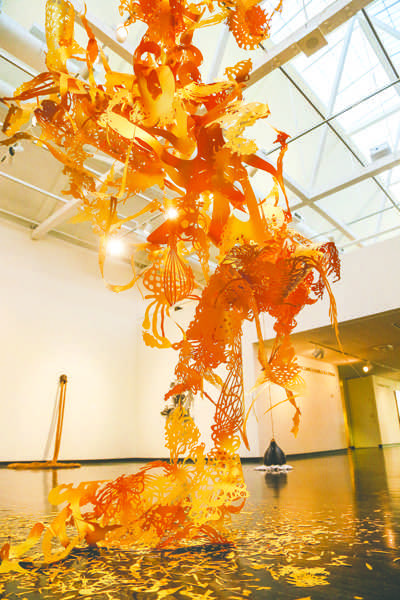 The North Dakota Museum of Art houses a vibrant variety of art work from around the world, including collections from Barton Benes and H.C. Lang. Photo by Natosha Lund/The Dakota Student
The North Dakota Museum of Art is a building on campus students may take for granted.
The quaint structure is tucked away on Centennial Drive across the English Coulee from the Hughes Fine Arts Center.
During the year, students continuously have the opportunity to stop in and check out the artistic displays the museum features.
The museum not only hosts a wide variety of imaginative exhibits, but is also home to the The Museum Café, where students can sit down and enjoy a relaxing lunch ranging from entrees of sandwiches to salads.
The North Dakota Museum of Art is the official art museum of the state of North Dakota and offers a wide variety of unique and artistic displays free of charge for anyone who walks in the door.
Recently, the museum has been given the opportunity to showcase a number of exceptional and eloquent collections and a displays from renowned artists.
Two of the exhibits currently on display at the Museum include The Fred H.C. Lang exhibit and Barton's Place.
Both of these exhibits offer intricate artwork for students and members of the community to view and enjoy.
Liang's exhibit, "A Bubble in a Stream," will be on display through Dec. 13 in the museum galleria.
This display features a contemporary take on paper-cut folk art. Liang takes inspiration from the traditional art of jianzhi and puts a modern spin on the pieces by creating drawings, installations and sculptures with paper-cut artwork.
Many students who have been to the museum to see Liang's creations say they were very impressed by his work.
When asked about the exhibit, junior Tim Dusek said. "I didn't realize the sculptures were paper until somebody told me, the exhibit was really well done."
When viewing Liang's creations, it is hard to believe the pieces were constructed from mere paper. This exhibit offers a simple yet intriguing illustration of talent.
"The display was definitely impressive and cool to see," Dusek said.
Another artistic display featured in the museum this semester is the Barton's Place exhibit. This exhibit is ongoing, and features a magical display of African, Egyptian, South American, Chinese and contemporary art, plus much more.
If students are interested in stopping by to see these exhibitions, The North Dakota Museum of Art is open from 9 a.m. to 5 p.m. on weekdays and 1 p.m. to 5 p.m. on weekends.
"I think all students on campus should check out the art museum, I regret that I don't stop by more often because it is definitely awesome," Dusek said.
Amanda Hefner is a staff writer for The Dakota Student.
She can be reached at [email protected]