Halli Krzyzaniak: The life of an international hockey star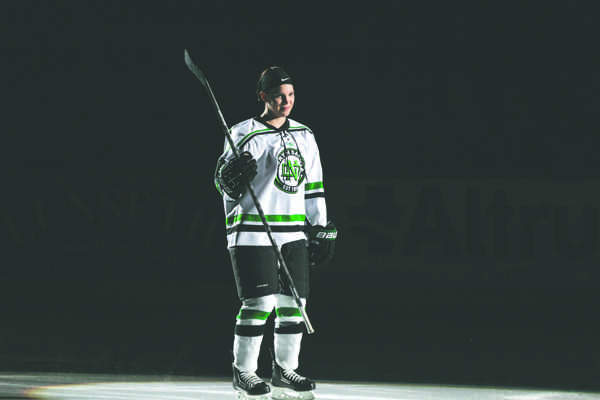 How the UND captain balances her life on off the ice. File photo
It is safe to say a successful team cannot exist without a successful leader.
The UND Fighting Hawks are able to find that and more in captain Halli Krzyzaniak.
The women's hockey team captain boasts an impressive record, competing for Team Canada Women's National Under-18 team for three years. In that time, she assisted in two gold medals  —  all before attending UND.
She continues to build a strong resume, representing her country in the 2014 and 2015 Four Nations Cup where the team was able to capture gold and silver, respectively, and competed with Team Canada at the 2015 IIHF Women's World Championship.
Covering the basics, Krzyzaniak is a force to reckon with. She, with co-captain Layla Marvin, is helping lead a team on the same path but not without crediting a great leadership team as well.
"Leadership isn't a one-man show," Krzyzaniak said. "It is a group action."
She credits the leadership skills of a whole group of women that make the team what it is.
"Our leadership is a core group," Krzyzaniak said. "When things need to be talked about or addressed, it goes through the entire group."
This core group consists of senior defense Tanja Eisenschmid, senior forward Marvin and senior forward Becca Kohler. 
Most recently, Krzyzaniak was honored with the opportunity to return to the 2015 Four Nations Cup to represent Canada, while her team faced with one of the most difficult series of the season in facing the Minnesota Gophers.
"I was confident leaving them in charge," Krzyzaniak said. "We had a great week of practice and our leadership group in general is great."
According to Krzyzaniak, the transition from her first season to the second go-round in the Four Nations Cup made all the difference.
"Between last year being a rookie and this year, I feel I've come back and brought more experience" Krzyzaniak said. " I get to play in one of the highest caliber leagues, getting a chance to play for UND and bringing my
experience in
from that."
Playing with some of the biggest names in women's hockey, there is always inspiration behind the talent.
Growing up in Neepawa, Manitoba, her interest in hockey began at a young age when she would watch her brother play in the outdoor rinks and ponds. So who does she look up to now that she's all grown up?
"The captain of the national team, Marie-Philip Poulin," Krzyzaniak said. "As a leader, she does a tremendous job on and off the ice."
The Fighting Hawks captain has had the opportunity to play with Poulin while representing the Canadian National team over the last two years.
Sharing her secrets of success, Krzyzaniak divulged some pre-game rituals to get her ready for the game.
"We have a group of players that play keep up before a game," Krzyzaniak said. "And in home games, there is one fan I have to high five before the game."
Krzyzaniak continues in her junior year at UND and leads the Fighting Hawks into what the team hopes to be a great season.
Allyson Bento is a sports writer for
The Dakota Student. She can be reached at [email protected]