UND rebounds with shootout win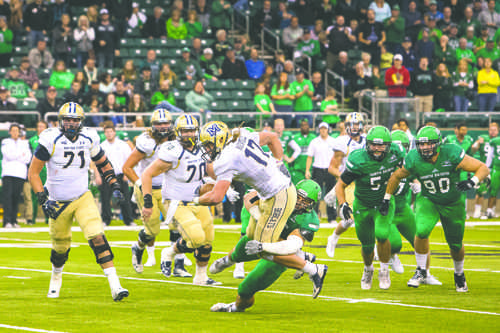 Will Ratelle makes the stop against Montana State on Saturday. Photo by Nick Nelson/ The Dakota Student
Ever since the UND football team joined the Big Sky Conference, Montana State has always had the squad's number.
However, nothing lasts forever which was the case in Saturday's matchup between the two teams.
The No. 18 Bobcats came into the Alerus Center looking to retain its unblemished record against UND after an offensive surge the weekend before scoring 63 points against Eastern Tennessee.
But the Green and White decided to fight fire with fire and was part of a shootout that went all the way into the fourth quarter.
With two minutes left in the game, the score was in a gridlock at 38-38 with UND marching down the field.
Freshman John Santiago's third trip to the endzone proved to be the decider with 1:38 to go and put UND up 44-38.
Even though they missed the extra point kick, it didn't come back to haunt UND on Halloween as the Bobcats were stopped on a knocked down pass  by Jake Disterhaupt on a fourth down play to seal the win for the Green and White.
"We put a lot of effort into this game and we feel it's a big win for our program," UND Bubba Schweigert said. "When you play against a team like this, you got to keep plugging away."
With the win, the Green and White moves to a 5-4 record with a 3-3 record in the Big Sky.
UND will have some extra time to prepare for its next matchup against Northern Colorado as the program has a bye week.
"We got an open week. Others call it off, I call it open because we can still get better and focus on things," Schweigert said. "But we really need to be smart this week to get better and get our guys healthier and feeling better against Northern Colorado."
Freshmen John Santiago and Brady Oliveira were absolute nightmares for Montana State, as they combined for 397 rushing yards as well as four touchdowns.
With his sixth straight 100 yard game, Santiago set a new record in the program's D-1 history with 1,162 rushing yards in a season.
"We got to take each game, game by game," Santiago said. "To be successful, we got to play by the fundamentals, tough and physical. It was an important win for us but we got to take everything day by day."
UND will look to continue its day by day approach with an important open week as they prepare for a big matchup at home against Big Sky opponent Northern Colorado November 14.
Jack Harvey is a sports writer for The Dakota Student. He can be reached at [email protected]