Matching style with substance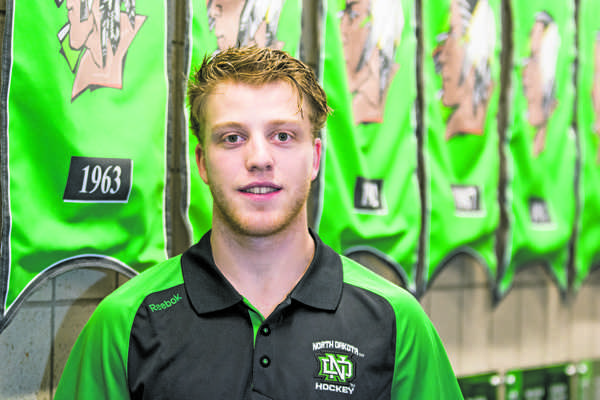 UND forward Drake Caggiula leads the team through example, as he has one goal and five assists to start this season. Photo by Nick Nelson/ The Dakota Student
For Drake Caggiula, there's was nothing else he wanted to do other than play for the University of North Dakota.
"Jonathan Toews was an inspiration of mine," Caggiula said. "I saw him play at the World Juniors when I was 12 and looked up where he played. Once I saw he went here (UND) I said to myself if I ever played college hockey this would be the one place I'd want to play."
After a few seasons playing for Stouffville in the OJHL, the dream became a reality for Caggiula when he made the transition to college hockey.
"I held out for as long as I could until I could and thank God it worked out," Caggiula said. "This is the only place I wanted to be. It's been a dream of my life and it's come true and it's great."
It's no coincidence that Caggiula also wears the same number as his inspiration Jonathan Toews.
"My dad wore nine when he played growing up. I wore nine throughout minor hockey days and didn't really get to pick my number in juniors," Caggiula said. "But when I came here, the number 9 option was open and I knew that big name players had worn it here so I thought it'd be pretty cool to wear it here as well. It's been one of my favorite numbers growing up."
The native of Whitby, Ontario has certainly written his own chapter into the history of UND as he enters his senior season.
It's been a wild four years for Caggiula. But for him, he can't believe it's the final year in his college playing career.
"I still remember moving into dorms with my other freshmen classmates," Caggiula said. "Everyone says it goes by fast and you think 'Oh it's four years it's going to go by pretty slow'.  But it feels like it was yesterday I was moving in here and now it's my last year. It's going fast. It's a little nerve racking but at the same time it's a lot of fun."
If his statistics are any indication, the senior winger certainly had a fun time playing for the Green and White faithful. Not counting his one goal and five assists so far this season, he has scored a total of 37 goals with 39 assists. What's even more impressive is that he's improved every season.
The forward credits his ability to not plateau with his hard work throughout the offseason and mentally maturing season by season.  
"From freshman year to now I've grown as a person and matured a lot off the ice which definitely helped me on the ice,"  Caggiula said. "I came to school as an 18 year old and I knew that I needed to get stronger and faster because I'm going against guys 25 years old. Every summer I've been doing that."
"I've been working on improving my skating, my shot, all that sort of stuff," Caggiula said. "Having some great off seasons to have good seasons during the year."
Not only has Caggiula been constantly improving, he's turned heads with his ability to make something out of nothing with highlight-reel goals.  
"It's little things," Caggiula said. "You go out in the morning practice skill work where stick handling in tight areas or around some cones."
"In practice when you get a one on one opportunity, you're going to try and make that move because if it does work you have the ability and confidence to do it and the more you practice it the better you're going to be at it," Caggiula said.
After four games, UND has maintained the rank as the top school in the country with record of 2-0-2. Along with the rest of the team, Caggiula welcomes the responsibility with being the #1 ranked school in the NCAA to start out the season.
"I think the name North Dakota gives us kind of a target on our backs," Caggiula said. "Every team that comes in brings their best game. That's the great thing about North Dakota is everyone wants to play against us."
"We strive to be the best. We don't care too much about the rankings. We just want to win a national championship at the end of the season," Caggiula continued. "We pride ourselves being the best in college hockey. If we're not the best we're selling ourselves short. We got to work on that every week. Once you get to number one it's not about celebrating it, it's about maintaining it."
Caggiula and UND will look to continue its hot early season start with traveling out to Vermont this weekend.
Jack Harvey is a staff writer for The Dakota Student. He can be reached at [email protected]