Sophomore track star prepares for second season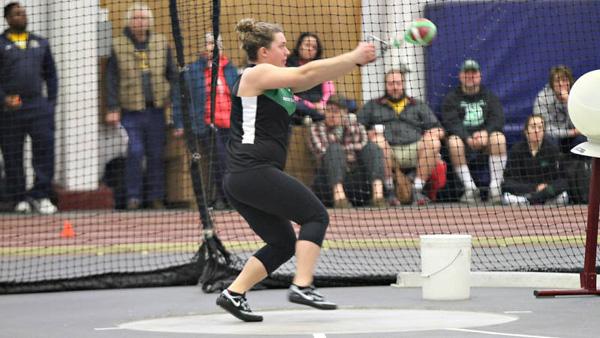 Molli Detloff prepares to throw the hammer. Photo courtesy of undsports.com
Molli Detloff is a sophomore making waves on the UND Track and Field team. In her first year playing for UND, Detloff managed to take third place in the hammer throw and fourth place in discus during this year's Big Sky Conference, an extremely impressive feat for a new thrower. The Elk River, Minn. native began her track career in middle school and has been going strong ever since.
"I started in seventh grade, so I did six years of track in high school," Detloff said. "But this is just my second year collegiately."
Detloff began her middle school track career as a sprinter, but she quickly began practicing shot put and discus as well. Detloff soon excelled at these throwing sports, and it was an easy transition to the hammer throw at a college level.
"They don't have hammer throwing in Minnesota high schools, so I just started last year," Detloff said.
Along with her impressive hammer throwing abilities, Detloff is also an accomplished discus thrower as well.
"In high school I threw a (discus) 142 feet, and last year I hit 170 for a new personal record," Detloff said.
The hammer throw is considered one of the most difficult track and field events to perfect. While it is often seen as a pure strength sport, balance and foot placement are equally important to an effectively throw the hammer.
The UND track team still has a few months before their indoor season begins, but practices are already in full swing.
"Right now we're in our off season, so we're only practicing for eight hours per week," Detloff said. "But when we're in our official season we're practicing for 20 hours per week."
Given the long practice sessions and over 20 meets in the regular season, the time commitment alone can seem overwhelming. However, Detloff did not report having trouble maintaining her intensive school and track schedule.
"It can be difficult at first," Detloff said. "But it's a lifestyle that I'm used to."
When asked if she ever expected she'd ever get to where she is today, Detloff replied, "I had no idea I'd come this far or be this successful. It's taken a lot of hard work."
The first indoor game of the season is in early December, and Detloff is extremely confident in her team's abilities this season.
"I can't wait to see our hard work in the weight room and at practice pay off," Detloff said. "We have a really good throws squad this year and we are all ready to throw far."
Looking past this year, Detloff has even larger aspirations.
"I want to be an Olympian for sure some day," Detloff said. "One of my idols is Amanda Bingson: She's the current American women's record holder for the hammer throw."
It's also worth noting that the record-holding Bingson also began her hammer throwing career during her freshmen year of college.
Brendan McCabe is the features editor for The Dakota Student. He can be reached at [email protected]